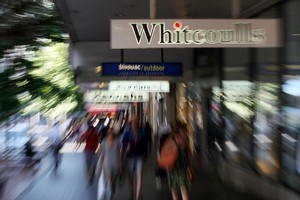 REDgroup's unsecured New Zealand creditors were owed $21.5 million when the company, which owns the Whitcoulls retail chain, went into voluntary administration.
The group's Australian creditors were out of pocket by A$25.5 million ($34.5 million), REDgroup's New Zealand creditors were told at a meeting at the Ellerslie Events Centre yesterday.
Employee entitlements across the whole group came to A$7.8 million, with the New Zealand staff component totalling $2.1 million. The company's total secured debt was A$118 million, most of it to private equity owners Pacific Equity Partners (PEP).
The meeting, held in conjunction with another meeting of REDgroup's Australian creditors across the Tasman, confirmed Ferrier Hodgson as administrators.
The insolvency specialist is to prepare a report on the state of play with REDgroup, after which there will be a "watershed" meeting of creditors in five weeks' time.
Yesterday's meeting appointed creditors committees for the company's various New Zealand businesses.
They included representatives of printing company Geon, John Minto (representing the Unite union), Random House, Pearson, Alliance Distribution Services, which is owed $1.3 million, the Inland Revenue Department, Tasman Industries, and a number of employee representatives.
The watershed meeting will determine whether the company continues under a deed of arrangement, is returned to its directors, or is liquidated. PEP tried to sell its New Zealand assets last year.
One of the administrators, John Melluish, who chaired yesterday's meeting in Auckland, said he was confident REDgroup's New Zealand assets would sell as a going concern.
"People have a different mentality now that the administrator is selling it and it will sell for the best price that the market will bear, rather than what PEP might have wanted for it back then," he said.
"We are confident that the New Zealand business will sell as a going concern, much more so than the Australian assets, because it performs much better," Melluish said.
"One of the reasons for that is that the Whitcoulls product mix is very different to the Australian Borders/Angus and Robertson, mix, so it suffered less as a result of the whole internet booksale scenario," he said.
He said there were no serious offers on the table now for the entire business, although there had been informal registrations of interest for some parts of the business.
There are five companies in REDgroup's New Zealand operations that are covered by the administration. They are WGL Holdings Ltd, Whitcoulls Group Ltd, Calendar Club NZ Ltd, Borders New Zealand Ltd, and REDgroup Online Ltd.
New Zealand is fairly new to the voluntary administration process. Before 2007, New Zealand's insolvency regime was limited to receiverships, creditor compromises and liquidations.
The regime provides for a moratorium or "stay" on debt proceedings against the company while it continues to trade and a rehabilitation proposal is developed, the aim being a more measured distribution of assets or reorganisation with a view to returning to profitability. A sale can also occur under voluntary administration.
Any proposal put to creditors must receive 75 per cent approval by monetary value and more than 50 per cent by number of creditors to go ahead.
PEP bought Whitcoulls and Angus and Robertson from WH Smith in 2004. Later, it acquired 32 Borders stores in New Zealand, Australia, Singapore and consolidated them into REDgroup Retail.