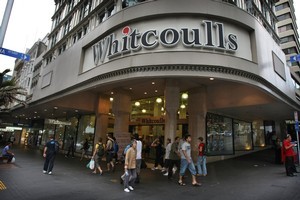 Booksellers Whitcoulls and Borders went into administration last week with $2.9 million in the bank, according to a report by administrator Ferrier Hodgson.
Ferrier Hodgson, appointed by REDgroup Retail, held a meeting in Auckland today at which the company's appointment was confirmed. Another meeting was held in Australia.
Ferrier Hodgson's Steven Sherman, John Melluish and Ryan Eagle were appointed on February 17 over five companies in the group, including Whitcoulls, Borders, REDgroup and Calendar Club. Businesses in Australia and Singapore are also involved.
The Whitcoulls/Borders administration is the largest since the introduction of the Voluntary Administration regime in New Zealand in 2007.
In New Zealand, 90 stores are in administration comprising five Borders stores, 76 Whitcoulls stores and nine Bennetts stores. There are a total of 283 stores in administration in New Zealand and Australia.
New Zealand assets include $2.9m in the bank and $53.4m in gross stock, with an $8.5m provision for write-downs and stock shrinkage, according to the report today.
Group assets include A$6.4m ($8.2m) in cash, A$119.2m in gross stock and A$140m in goodwill.
As at February 16, New Zealand employee entitlements totalled $2.1m, and unsecured creditors were owed $21.5m.
There were 1171 employees at Borders and Whitcoulls in New Zealand.
Ferrier Hodgson has met with senior management and staff, taken control of bank accounts and implemented a purchase ordering system. The administrators are also liaising with suppliers.
All employees in Christchurch are safe and accounted for. Six stores were closed following the city's deadly earthquake last week but five remain open. The six closed stores are expected to reopen next month.
Voluntary administration allows for a moratorium on debt proceedings against the company while it continues to trade and a rehabilitation proposal is developed.
Another creditors' meeting must be held within 25 days, at which the administrators would give an indication of the options being considered.
The administrators work for the interests of the creditors, and not the original company.
Whitcoulls is one of New Zealand's oldest companies. It was established as Whitcombe & Tombs in 1882.
REDgroup is controlled by private equity group PEP.
- NZPA