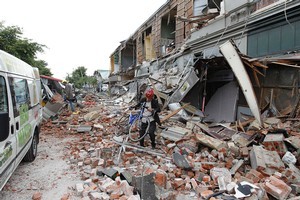 Staff at Christchurch sharebroking firm Hamilton Hindin Greene are trading from home after Tuesday's earthquake damaged the company's central city headquarters.
"It was pretty scary stuff, but all the staff got out [of the building unhurt]," said director Grant Williamson.
Electricity had remained on in the building - on the corner of Bealey Ave and Victoria St - since the quake so information on computers located inside the damaged building was able to be remotely accessed.
The building was "yellow stickered" at the moment, meaning engineers needed to assess its safety before anyone was allowed to gain access.
Williamson credited the NZX's disaster recovery requirements for allowing the firm to get up and running again so soon after the disaster.
Hamilton Hindin Greene had managed to secure temporary premises on Lincoln Rd, near Hagley Park, but it would be at least a week before staff could shift in.
"We're trying to get back to normal as soon as possible," Williamson said. "The big thing is trying to get back into our damaged building and get some of our computers and servers out, if we possibly can."
It would take five to 10 years before sufficient office space was rebuilt in the city, and Christchurch would lose companies that could operate in other parts of the country, Williamson said.
But Hamilton Hindin Greene was not going anywhere.
"We've been in Christchurch for over a hundred years - we believe we'll be here for another hundred."
Many of Hamilton Hindin Greene's clients came from Canterbury, but Williamson said that did not mean the quake would have a huge impact on the amount of cash its customers had available to invest.
"There's a lot of traditional wealth [in Christchurch], so for most of our clients the earthquake is not going be a complete disaster," he said. "There will certainly be some impact [on the business]. It's probably going to be a little bit of a struggle for a while but I don't see a huge impact, because we do have a very diversified client base."
Hamilton Hindin Greene has three directors and 10 employees.