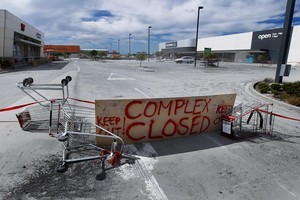 Commitment shown by business leaders to help Christchurch recover is a show of solidarity with the devastated community but also the right call economically, says BusinessNZ chief executive Phil O'Reilly.
A meeting of about 50 chief executives last week pledged support for the recovery effort.
The goodwill at the meeting was overwhelming, O'Reilly said. "I've certainly never seen the co-operation and collective spirit to that extent," he said.
"It's a good thing to do for the people of Christchurch, it's also just a very sensible thing to do economically."
The effects of the quake would be felt directly by businesses in other parts of the country.
"You'll have small businesses in Auckland who will be severely impacted by this because they'll be supplying someone in Christchurch.
"It's obviously in everybody's sensible economic interest to do something but [the meeting] certainly was much more about let's get on with this making sure it's better for the people of Christchurch."
NZIER principal economist Shamubeel Eaqub said Christchurch accounted for about 11 per cent of all jobs and represented a sizeable part of the economy.
"There are very important linkages across many sectors so what happens in Canterbury does have an affect on the rest of us," Eaqub said.
"What happens following national disasters, the rest of the economy needs to step up to take up the slack.
"There is quite a lot of sharing of resources and the like that can happen that can reduce the burden on businesses and people that are based in Christchurch."
The key difference between last week's earthquake and that of September had been the huge human cost.
"That's obviously had quite a big impact on morale and that's going to be spreading through not only Christchurch but the rest of the economy as well," Eaqub said.
The September quarter probably cut about 0.4 per cent from national gross domestic product, he said.
"So it was quite sizeable in its impact even in September and we think the latest one is going to be larger, it's just really hard to tell how big that's going to be."
Getting core services back was the most urgent priority and Eaqub could not fault the reaction from authorities.
A targeted fiscal response was needed to make sure people had welfare, kept buying food and paid bills.
"And having the relief for businesses so that the disruption that we're expecting of up to two weeks ... doesn't put those businesses out of action forever," Eaqub said.
This was where the Government and banks could help, he said.
Auckland Chamber of Commerce chief executive Michael Barnett said business was collectively putting up its hand and saying it could help, which was admirable.
"I think that what will happen first is that the business leaders down there will want to look and assess and see how much resource they have ... before they go looking to re-establish outside of the Canterbury region.
"The greatest thing their customers can do at the moment is probably provide them loyalty and they may have to make some compromise ... be a little bit more flexible."