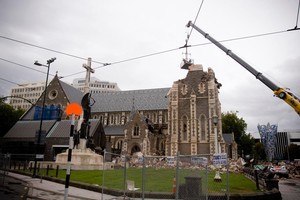 Despite great dollops of stoicism and a true Kiwi can-do attitude, the outlook for many Canterbury businesses is grim following this week's devastating earthquake.
ANZ bank economists have predicted that the rebuilding effort in Christchurch will be significantly delayed, and protracted - up to five years or more - and stymied by resource shortages.
"Not everything that was destroyed will be rebuilt," the economics team says in a special bulletin.
Canterbury Employers' Chamber of Commerce chief executive Peter Townsend says proposals for a business assistance package were put to Government on Friday night, and the focus is firmly on business survival.
The help can't come fast enough for many small to medium enterprise (SME) owners in the city.
"There were businesses on the brink because of the global financial situation.
I'm sure this will tip a number over the edge," says Warren Johnstone, managing partner of accountancy firm BDO.
BDO has had to vacate its central city premises and key staff are operating out of Johnstone's home.
They have been fielding a stream of calls from clients about paying staff, how to get cash, what their insurance will cover, - "a whole host of questions and how they can survive day-to-day for the next week".
With no revenue coming in, deferring GST and PAYE payments, ACC levies and other obligations may be the biggest help for businesses right now, he says.
"Even cash payouts for some people that are in dire straits could be the difference between survival and not."
Help with paying staff wages will be key, just as there was after the September 4 earthquake, says Nelson Duder, the managing director of energy efficient lighting manufacturer Energy Light.
It will be all about cashflow - "especially if you're supplying goods and services into the central city, obviously it could be quite a significant time before you're doing that again".
Like most businesses, Energy Light, based in the Christchurch suburb of Hillsborough, has shut this week, but intends to reopen tomorrow.
Despite its proximity to Lyttelton its premises escaped with minimal damage. It now has water and power, but no internet.
Things will be difficult, Duder says. Energy Light supplies the construction industry and projects that were just starting to happen again will now be on hold.
Another problem is lack of manpower. "The number of people that just upped-sticks and drove to somewhere else is quite incredible."
Looking after its 400 staff is the priority for commercial refrigeration, food service and heating products manufacturer Skope.
Its key suppliers are still on deck and it also hopes to have its Riccarton plant running next week, managing director Guy Stewart says.
But sewerage and waste water are an issue. "Right now everything's discharging straight into the river so we need to get permission from the council to do that."
People have left town because they need a mental holiday, he says. "Some people have been very badly affected by this.
"We're going to put a package together for our employees so they can have some mental stability time."
The best way people in other Australasian centres can support Christchurch businesses is to treat them as if they are merely on a short sabbatical, he says.
"We need them to give us orders and patience. If we owe you money, give us a couple of days to sort ourselves out.
"We had someone from Queensland ring us [this week] going crazy because we hadn't supplied the order."
Stewart is part of the chief executives group formed by Business New Zealand's Major Companies Group, which is coming up with initiatives to help Canterbury business. Good ideas are coming out of that, he says.
What catering firm White Tie Catering needs is infrastructure, owner Tina Duncan says.
The company has had to abandon its central-city base. Without equipment such as ovens, chillers, mixers and computers it can't function.
It has a contract with Air New Zealand so is continuing to operate out of its airport kitchen, but it's had to cancel weddings.
White Tie has three to four weddings booked each weekend for the next two months.
"We've got the emotional stuff with brides who are saying, 'our wedding's in a fortnight, is it going to go ahead?' And we're not able to give answers to those people yet.
"All the insurance in the world doesn't get you up and running two days later."
Duncan believes there will be an exodus from the city, particularly in the hospitality trade, which does not bode well for the Rugby World Cup. "There's no question there will be a lot of businesses that cannot survive this."
The central city will need to be built in a completely new, low rise way, she says. "People are terrified."
Law firm Duncan Cotterill will not return to its offices in the Clarendon Tower on the corner of Worcester St and Oxford Terrace, chief executive Janice Frederic says.
"We're not putting staff back into high rise. They won't go and we wouldn't ask it of them."
The firm will be looking for new low-rise premises, ideally on the fringes of the CBD.
Although the 120-strong Christchurch office is Duncan Cotterill's headquarters, it has a network around the country that will support it practically and financially, so it is better off than many, Frederic says.
The SMEs will be in most need of the Government's assistance package.
But it won't be enough to save everybody, she says.
"Some businesses will never get back on their feet. The buildings are gone, the demand will be different. It's unknown at the moment."