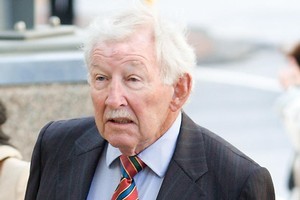 Sir Ron Brierley's investment company Guinness Peat Group reported a full-year net profit of £46 million ($99 million), a turnaround from the £36 million loss the year before, with a major contribution from textile company Coats.
The company this month published a "strategy to realise value", with the announcement seen as indicating a change in control. An initial capital return to shareholders of at least £75 million is planned for 2011. For 2010, GPG reported revenue from continuing operations of £1.35 billion, up from a restated £1.17 billion a year earlier, while profit before tax from continuing operations rose to £73 million from £7 million.
Attributable GPG profit from Coats was £39 million, compared with a £3 million loss in 2009, GPG said yesterday.
Coats' industrial business had a strong sales recovery from a year earlier, while the crafts business had modest sales growth.
The accounts show a loss before tax from continuing operations of £12 million for the parent group in the year, while Coats' was £69 million.
The GPG result also included a £16 million contribution to profit from the disposal of GPG's investment in Maryborough Sugar Factory and a trading contribution from Capral of £2 million, despite poor market conditions in its sector, GPG said.
Good progress was made in disposing of non-core investments in the year and in positioning some investments for disposal in 2011.
Net assets rose by £118 million to £1.06 billion at December 31, partly as a result of the profit contribution and also partly from foreign exchange gains of £58 million recognised in reserves, GPG said.
The capital return is expected to be carried out through a scheme of arrangement, with shareholders receiving a cash payment in return for cancellation of a proportion of their GPG shareholding. GPG said it intended to send a circular to shareholders ahead of the annual meeting, due to be held in Auckland in June.
- NZPA