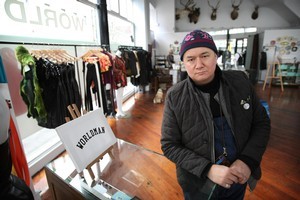 It's just a shop, in the scheme of things, says World owner Denise L'Estrange-Corbet of her demolished High St outlet.
"It is pretty devastating. Our main concern was for our staff. Nobody died.
"It just happened, there is nothing anyone can do about it. This is not something anyone has experienced before in New Zealand - no one saw it coming.
"We're not very materialistic, despite what people may think."
L'Estrange-Corbet was concerned only for her shop assistant Holly, in her mid-20s, and it is easy to see why when you assess the enormous damage the building received.
It's hard to believe anyone survived that, but Jonathan "Jono" Moran, owner of neighbouring Infinite Definite, is being hailed a hero after pulling Holly from underneath collapsed bricks and debris and carrying her to safety.
World partner Francis Hooper said: "She was flung into the basement under tonnes of bricks. She told me 'I'm amazed I'm alive'.
Holly was the only person working at World when the quake hit. She suffered minor lacerations and a concussion.
"It's a very stoic city, but there have been so many aftershocks. Christchurch got back on its feet and then this.
"The business is gone. I'm an optimist, it's about being positive. But I think it will be at least a year before we open another store. What's the point [if there is going to be another quake]?"
Hooper said the store was just recovering from September's quake which closed it for five weeks and cost $100,000 in repairs.
What saddened him was not the commercial loss, but the loss of a rare and beautiful building, a Christchurch landmark, now gone forever.
World took up the ground and basement level of the old ANZ Bank Chambers building, a structure similar in architecture to New York's famous Flatiron building. The other floors were luxury apartments.
"It was one of a few in the world. It was a four-storey historic building - there are only five in the world, well, four now.
"It's a very famous building. ANZ pledged to restore it after the last earthquake. Now it's all gone," he said.
Hooper said he did not know if anyone had been inside the apartments at the time of the quake.
He said the first earthquake and constant aftershocks had hurt the business.
"Having to be shut for five, six weeks during the repairs, we lost money because we couldn't trade and this was during a very tough [retail] year.
"Now we have lost everything.
"It was a busy, wonderful, vibrant store.
"The city will never be the same again."
Hooper estimated 20 per cent of World's business would be wiped off the company's balance sheet.