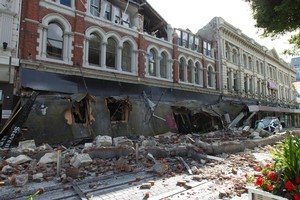 If increased levies are needed to replenish Earthquake Commission funds then the Government would consider it, Prime Minister John Key says.
Speaking on Radio New Zealand this morning he said it was too early to get advice on the issue but he was confident the country had enough money to deal with Tuesday's massive Christchurch quake, which has killed at least 103 people with 228 still unaccounted for. The concern was the future.
"The good news part of the story is that EQC had about $6 billion before that (quake), that's going to be exhausted, but we pay in on a continuous basis and we had significant re-insurance in the order of $5b, that will be exhausted."
There would also be funds from private insurers and government.
"We've got the financial capacity to deal with the earthquake there's no question about that, and that's why the rating agencies aren't downgrading New Zealand."
However the quake would have an impact on economic growth as lack of activity in Christchurch would flow into Government accounts.
More re-insurance would be needed and it would be more expensive. The EQC would need to be replenished and the Government would have to decide how quickly that would need to be done.
Treasury advice would be sought.
Mr Key said his preference was not to increase the levy.
"You do what you have to do. If that was what was required, if that was what was in the best interest of New Zealand, for us to feel confident we could meet any future claims against EQC I'd do it."
However it was far too early to get advice let alone make decisions.
"That's not our No 1 focus at the moment."
Treasury chief executive John Whitehead was to visit Christchurch today.
Green Party co-leader Russel Norman suggested a temporary earthquake levy on all income earners over $48,000 similar to one imposed in Australia after their costly floods.
"Those earning between $48,000 and $70,000 a year could pay up to an additional one per cent income tax, while those earning over $70,000 could pay up to an additional two per cent income tax to help pay for the reconstruction of Christchurch.
"A levy at those levels would raise an additional $921 million per year and be directly tagged for disaster relief and reconstruction. The levy could last for a defined time period such as a year, or end with the reconstruction of Christchurch, whatever comes first."
- NZPA