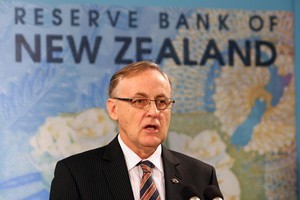 Expectations that the Reserve Bank will cut interest rates have hardened as the scale of the Christchurch disaster becomes clearer.
The money market is now fully pricing in at least a 25-basis-point cut to the official cash rate when the bank releases its monetary policy statement on March 10. It was a 50/50 proposition on Wednesday.
And according to Credit Suisse's swaps-based indicator, the pre-quake 50 basis points of tightening the market expected to happen within the next year have been scrapped.
ASB economists, who on Wednesday put a 35 per cent probability on an OCR cut, saying the case for cutting was more "why not?" than anything else, said yesterday they expected a 50-basis-point cut and that it would be very helpful to the recovery.
Driving these rapidly evolving views is the realisation that the physical damage from Tuesday's earthquake will substantially exceed the $5 billion to $6 billion caused by last September's quake, and that the loss of life will also mean a much heavier psychological toll.
"The cost to the Government is likely to be much larger, at a time when the economic backdrop is posing challenges to the Government in meeting its Budget," said ASB economist Jane Turner.
"Fiscal policy is likely to find itself in a position where it may be tighter than ideal for the broader economy, and monetary policy can provide some offset."
Reserve Bank Governor Alan Bollard, in a speech a month ago, raised the possibility that he might "have to reconsider some further monetary policy stimulus" in a scenario where consumers remained cautious, saving more and spending less, and there was a pall of gloom over the housing market.
A raft of underwhelming data indicated the economy had stalled over the second half of last year, Turner said.
"The latest Canterbury earthquake adds to this uncertainty, and suggests lower interest rates would be helpful to the recovery of the economy."