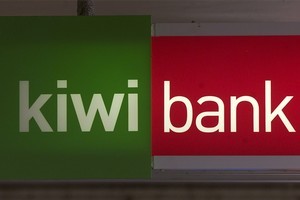 Government owned Kiwibank says profit for the six months to December 31 fell 41 per cent as bad debt provisions more than doubled.
Kiwibank, a subsidiary of New Zealand Post, said today its first half-year profit fell to $13.9 million from $23.5 million in the same period of the previous financial year.
Chief Executive Paul Brock, who replaced founding CEO Sam Knowles in September last year, said the biggest impact on the results was the increased provision for bad debts. This jumped to $45.5 million from $19.5 million.
Brock said these were largely unsuccessful business investments and "very few" involved domestic home owners.
Kiwibank's level of at-risk loans remained very small compared with Kiwibank's total lending portfolio and reflected the dropping value of "certain classes of property collateral" and remained "modest" when compared with other banks.
Brock said Kiwibank's total lending, incorporating home loans, business banking and credit cards, rose by 5 per cent to $10.9 billion from NZ$10.4 billion in the six months from July to December.
Retail deposits increased 10 per cent to $7.6 billion from $6.9 billion.
Kiwibank's total income rose $15 million, or 10 per cent, to $169 million and operating expenses climbed $7 million, or 7 per cent, to $118 million. Net-interest-income rose to $89.3 million from $66.3 million, or from 1.19 per cent to 1.42 per cent of total assets.
Brock said the increase was largely driven by higher margins from variable, or floating, mortgages compared with fixed term loans.
Brock said Kiwibank's Notice Saver "no-term" deposit, has attracted more than half a billion dollars in less than six months.
The outlook for continued growth of the bank, which has the taxpayer providing an emergency "uncalled capital facility", and is expanding into the finance company space through the launch of Kiwi Asset Finance, remained positive.
"After nearly nine years we are continuing to build market share; continuing to build our loan and deposit portfolios and most importantly continuing to make a positive impact on the New Zealand banking sector," said Brock.

INTEREST.CO.NZ