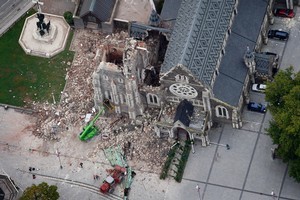 Christchurch and Canterbury Tourism chief executive Tim Hunter says the city has been dealt a devastating blow.
"It's just not in a state that can cope with more tourists at the moment," Hunter said. "It really is a case of encouraging people who are here to think about moving to other parts of Canterbury or other parts of New Zealand while the city just deals with the immediate emergency.
"We also have the complications of the central city area being cordoned off ... of course a lot of the major hotels are in that area and restaurants and retail."
The organisation was doing a stocktake to see how other forms of accommodation were faring, particularly motel and holiday parks.
"But at the moment we've really just got the airport hotels that are relatively unscathed but it's certainly not enough to meet the needs of an entire inbound tourism industry," he said.
"I think we're just going to have to accept for a while that people will fly into Christchurch airport and they will move [away] ... to start their South Island holiday while we rebuild.
"I think it has a bright future long term but I think the short to medium term's pretty bleak."
The earthquake had hit some tourism infrastructure quite hard, particularly hotel stock and some of the inner city attractions, such as Cathedral Square.
"I think some attrition [among tourism businesses] is inevitable, unfortunately."
Richard Benton, owner and director of the International Antarctic Centre, was visiting Christchurch Hospital when the earthquake struck.
"As I came through the accident emergency on my way out of the hospital the whole ceiling had come down and there were people who'd got bleeding heads and were very distressed," Benton said.
Outside the hospital people were consoling each other.
"Lots of people just walking around quite aimlessly, coming out of their buildings not really knowing what to do, what to say really."
Staff at the Antarctic centre, situated next to Christchurch Airport, were fine, Benton said. He would like to reopen within two weeks.
"Our staff obviously are quite distressed so getting staff to come in to operate the business is the biggest challenge for us at the moment," he said. "The building itself looks okay but we're not certain of how structurally sound it is so we need to get structural engineers in, like we did at the previous earthquake, just to make sure it's fit for service before we reopen."
It was too early to tell what the earthquake meant for the tourism industry, although Benton suspected there would be a large number of cancellations. News of the earthquake was being broadcast widely around the world.
"You would expect it would have quite a high short-term impact and medium-term it's probably likely to have some impact I would suspect. Long term you'd hope that it would have little impact - you would hope."
The earthquake had struck in the middle of the tourist season.
"The next three months are when most tourism businesses need to make their money to survive through the winter," he said. "It's a challenging time for all tourism businesses within the region but probably those businesses that are less established ... may find this is the straw that breaks the camel's back."
Tourism Industry Association chief executive Tim Cossar said it was too early to speculate on any longer-term implications for the industry.
"While Christchurch is obviously pretty badly damaged ... the rest of New Zealand's still open for visitors tourism wise," he said. "We're just trying to get around operators and talk to them and see where they need help and where they need assistance, if they do."
Such events could have short-term impacts on the market and potentially long-term impacts.
"We're well aware of that but at the moment everything's secondary to the rescue effort."