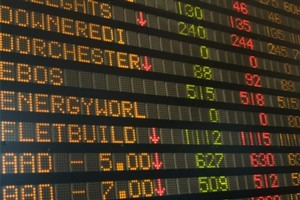 A number of listed companies are reporting relatively minor damage to their Christchurch operations but there has been no update from Pyne Gould which leased the collapsed PGC house at 233 Cambridge Terrace.
Pyne Gould and related companies Marac and Perpetual Trust had 68 staff housed in the building. A number of people are believed to be still trapped in the building's rubble. The stock, which hit a record-low yesterday, rose 3.2 per cent to 32 cents today.
Stockbroker Forsyth Barr chief executive Neil Paviour-Smith said 12 of his staff had been stuck on the 12th floor of the about 21-storey Forsyth Barr House in Christchurch after the stairwell collapsed but all had been rescued and are safe.
A number of other staff out at meetings or at lunch when the earthquake struck are also safe, he said.
ASX-listed Insurance Australia Group said its New Zealand businesses, including State and NZI, were rapidly mobilising to respond to claims.
The shares fell 1.9 per cent to A$3.63 in trading yesterday.
"While still far too early to determine the extent of the damage from this latest event, our reinsurance cover means that the maximum financial impact on the group would be A$40 million," said managing director Mike Wilkins.
Kathmandu Holdings said its Christchurch head office and New Zealand distribution centre have been damaged in the earthquake and it doesn't know when both premises can be fully reoccupied.
That will also be dependent on necessary site services being restored and the distribution centre may also be impacted by the wider damage to infrastructure in the city. The shares fell 2.8 per cent to $2.06 in trading today.
The company is being managed by its Melbourne office in the meantime.
All three of its Christchurch stores are closed but all other stores are open and fully operational. "At this point in time, Kathmandu management do not consider the impact of the latest earthquake on trading in New Zealand to be significant. A further update will be provided to the market next week," the company said.
TeamTalk said users of its Fleetlink mobile radio network experienced short delays due to unprecedented call volumes in the hours immediately after the quake but its other networks, including Ambulance New Zealand, were largely unaffected. The stock was unchanged at $2.17 today.
Kiwi Income Property Trust, which owns the Northlands Shopping Centre and PricewaterhouseCoopers Centre in Christchurch, said its properties sustained no obvious major structural damage and all employees are accounted for and safe.
"The two supermarket operators at Northlands are expected to re-open in short order to cater to the essential shopping needs of local residents," said chief executive of Kiwi's manager, Chris Gudgeon.
The shopping centre sustained minor damage such as damage to shop fronts, stock and racking systems for some retail tenants and there was also some water damage from leaking fire sprinkler pipes.
In the office building, some ceiling tiles and light fittings became dislodged and it also suffered similar water damage - it was build in 1990.
The trust's shares were unchanged at 99 cents today.
Turners & Growers said it sustained only minimal damage to its facilities in Christchurch and all its staff in the region are uninjured "but obviously in considerable shock." The stock fell 0.6 per cent to $1.69 in trading.
Yesterday, Fletcher Building reported damage at several of its plants and significant damage to two construction sites but it had no reports of employee fatalities or injuries. All its businesses in Christchurch had been shut to allow people to return home and check on their families. The shares fell 0.8 per cent to $8.41 today.
Also yesterday, insurance company Tower said it had set up an emergency response team to handle claims. The quake will trigger Tower's reinsurance arrangements but Tower's costs are capped at $5 million and the after-tax effect is expected to be about $3.5 million. The shares gained 2.6 per cent to $1.95 today.