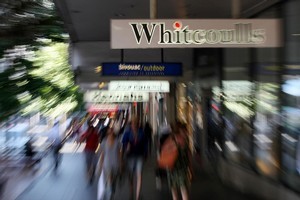 Non-staff creditors of REDgroup Retail are owed more than A$170 million ($226.1 million) with the largest amount owed to REDgroup's private equity owners Pacific Equity Partners.
Speaking publicly for the first time in New Zealand since Ferrier Hodgson was appointed voluntary administrators on Thursday, partner Steve Sherman confirmed 75 per cent of the money was owed to PEP.
But he denied the private equity company would have an unfair say in any proposal put to creditors.
"They are like everyone else that is owed money - yes, they do have a major seat at the table and they will keep their options open but let's not lose sight of the fact they are entitled to vote, they have paid money into the group."
Under New Zealand's voluntary administration law, any proposal put to creditors must receive at least 75 per cent approval by monetary value and more than 50 per cent by number of creditors to go ahead.
PEP bought Whitcoulls and Angus & Robertson from British bookseller WH Smith in 2004. It later acquired 32 Borders stores in New Zealand, Australia and Singapore and the businesses were consolidated into REDgroup Retail.
Sherman said any creditor who felt aggrieved by the vote could ask the court to investigate, "but we would hope never to progress to that stage".
Any proposal would not be put to creditors until a second "watershed" meeting. That meeting is supposed to take place within 25 working days of the administrators' appointment but the time can be extended by a court application.
"It's probably more likely than not we will extend the convening period. How long that will be depends on what materialises between now and next Tuesday."
The first creditors' meeting will be on Tuesday at the Ellerslie Events Centre in Auckland and in Melbourne for Australian creditors.
Sherman hoped to have some information on the state of the company by then but said it was too early to say if there would be store closures or staff losses in New Zealand.
He said the business would continue as usual, including having sales and taking part in events such as New Zealand Book Month.
Sherman conceded selling the business was an option being considered.
He said he had received a number of approaches expressing interest in the business but they were "very cursory" at this stage.
Sherman commended staff for the way they handled the news and said the discount voucher situation had been tough on them.
Feedback from suppliers had also been supportive and none had yet terminated their services.
While there was uncertainty over how much money would be paid back on debt owed to suppliers before the administrators were appointed on February 17, they would be paid through the administration period and the process allowed them the chance to get their money back.
REDGROUP RETAIL
* Owns 260 stores in the three countries.
* Includes 60 Whitcoulls and five Borders outlets in New Zealand.
* About 1000 people are employed in New Zealand.