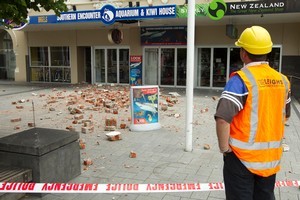 Christchurch homes and businesses that were under-insured for last September's earthquake will be particularly hard-hit by the 6.3 magnitude earthquake that hit the city this afternoon.
"The September quake revealed massive complaints over loss of profits and business interruption insurance, especially for the retail sector, and these problems will rear their ugly head again," insurance broker John Sloan told BusinessDesk.
The spectre of major earthquake insurance premium increases "will become a reality," said Sloan, a long-time Wellington insurance broker and commentator.
He said many companies didn't realise that the earthquake claims deductible (excess) "had changed to be a percentage of the total sum insured on the buildings, contents, loss-of-profits cover at the same site and the all-up deductible was very costly."
In addition, many homeowners and businesses would either not have renewed or increased their insurance after the September quake, while they awaited policy renewals to be actioned.
"Clients who were under-insured in the September quake will, it seems, remain under-insured, so increasing the financial plight of aggrieved claimants," Sloane said.
The pace of insurance claim processing and commencement of reconstruction from the September quake was already becoming a political issue prior to today's fresh devastation.
New Zealand Insurance Council chief executive Chris Ryan said it was "just too early to tell" what the eventual cost of today's earthquake would be.
"It's very hard to be able to predict," he said. "About 25 per cent of our claims had been resolved, and we were getting ready for the rebuild - there was a real feeling of optimism as though things were moving forward, and that's going to be reassessed at the very least."
Sloan said the Earthquake Commission may have to liquidate more of its investments to help fund repairs, while private insurers would face further calls on their reinsurance arrangements.
"If their reinsurance has a more limited reinstatement provision, they, as original insurers, may face some cash-flow difficulties as they call on reserves," he said.
Rating agency expects quake will hit NZ govt finances
International credit rating agency Standard & Poor's says it's too early to assess the impact of today's Christchurch earthquake.
Melbourne-based ratings analyst Kyran Curry said the quake was likely to have a negative impact on the government's finances as occurred after the September quake.
S&P currently has New Zealand on a AA+ rating, with a negative outlook, though this is strongly based on the country's external position.
Curry said that though there's no good place or time for an earthquake, the fact it has taken place in Christchurch as opposed to Wellington or Auckland means the banking and financial infrastructure will continue to function.
He said it will take at least a couple of days to provide any kind of assessment.