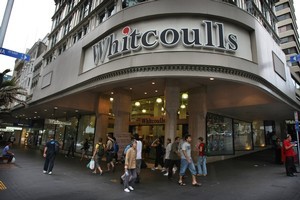 The National Distribution Union (NDU) has criticised the owners of troubled bookshops Whitcoulls and Borders for putting workers' jobs on the line without consultation.
The two bookselling chains were put under administration in Australia and New Zealand by Australian parent company REDgroup Retail earlier this week.
The NDU's general secretary Robert Reid said staff redundancies seemed inevitable, although how many staff would lose their jobs was unclear at this point.
"I've never seen an administration or receivership happen without, unfortunately, some redundancies."
Mr Reid added REDgroup Retail had handled the situation poorly, as many workers only found out about the move when it was plastered on the front page of the newspaper.
"The initial thing I think has been handled very badly in New Zealand."
The company had vowed to keep workers in the loop from now on by sending out regular email updates, he said.
The union would meet with REDgroup Retail tomorrow afternoon, which would hopefully allow the union to find out what the administration would involve and allow it to formulate a strategy, Mr Reid said.
"You can't have a strategy for something if you don't know what game the other side's playing."
REDgroup Retail appointed Ferrier Hodgson as voluntary administrators, which has set up shop in New Zealand to assess the group's financial position.
A Ferrier Hodgson statement to employees said the administrators' job was to take control of the group's assets, review restructuring options, explore going concern sale options and to keep the businesses operating as usual.
It said it was too early to say what the future might hold for employees.
Mr Reid earlier said administration was a relatively new concept in New Zealand and even when companies continued trading, there were job losses.
"The unprofitable stores might close or things will be shrunk down.
"We are preparing for the worst I guess."
Whitcoulls is one of New Zealand's oldest companies. It was originally named Whitcombe & Tombs and began in 1882.
REDgroup has 79 shops in New Zealand under three brands - Whitcoulls, Borders and Bennetts.
- NZPA