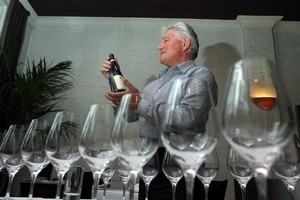 A saturday night webcast of a New Zealand wine tasting in Chicago is one of a myriad of new techniques the Kiwi wine industry is using to target lucrative overseas markets.
In September a group of 21 boutique New Zealand wineries hosted a luxury weekend in Denver, Colorado to launch a project called "Complexity - The Fine Wines of New Zealand".
Backed by New Zealand Trade and Enterprise, its aim is to target key influencers in the upper echelons of the American wine market, who to date have not perceived this country as a producer of top-shelf wines.
Leading the project is Craggy Range managing director Steve Smith, who says the Complexity group is making use of social media to reach its audience.
A Waitangi Day tasting in front of a studio audience in Chicago was webcast around the world, and gained significantly more viewers than a similar Australian tasting the week before, he said.
"What that shows us there is definitely an interest in New Zealand wine in the US market."
Complexity has a series of ongoing events, such as taking part in food demonstrations in Macey's department store and upcoming master classes.
The Chicago event was its first test to see if this kind of marketing would work, and had proved successful so far, Smith said.
"We're going to end up with a database of people who we know are New Zealand wine lovers. We're going to probably tweak our programmes to make sure they stay part of our community.
"We have to be pretty innovative in the way we look at it because we're having to do it differently from the way everybody else does things."
Despite the size of the market, the US is only the third-largest export customer for Kiwi wine.
The Complexity group is aiming for the US$18-plus ($23) a bottle segment, representing the top 10 per cent of the American market. "New Zealand's not playing there at the moment and we need to be," Smith said.
Meanwhile another group of boutique Kiwi winegrowers is claiming success with a project called the Specialist Winegrowers.
The group of six wineries, each specialising in a single wine variety or style - pinot noir, gewurtztraminer, methode traditionelle, sauvignon blanc, syrah and cabernet blends - says it is achieving average returns of more than $50 a litre.
Also aiming for the fine-wine collector market and top-end restaurants, the group has so far signed export contracts with distributors in Hong Kong, Malaysia and the Netherlands. China and the UK are in the pipeline.
"I have long believed that it is vital for New Zealand's standing that the world's wine trade gets to see the very top end of our wine producers," member Nick Nobilo, of gewurtztraminer producer Vinoptima, said.
New Zealand Winegrowers global marketing director Chris Yorke said Kiwi winegrowers worked well together because it was an efficient way of reaching their audiences.
The industry body was currently working with NZTE to target Northern Europe.
Research was under way to determine which areas to focus on, but were likely to include Scandinavia, the Benelux countries, Germany and Switzerland.
"The next step will be to identify what I call the pots of gold: the people who are prepared to pay for our premium wines and then how to get the wine to them," Yorke said.
The New Zealand wine industry's three key growth markets were North America, Northern Europe and Asia, particularly China.
New Zealand Winegrowers was about to conduct its first tasting in Beijing.
It would then be doing further work with NZTE on next steps in China. "In China particularly a lot of education is needed."
The industry body was using the services of China's first Master of Wine student to help with education programmes.