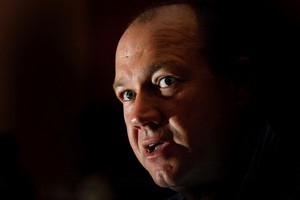 Embattled financier Mark Hotchin has admitted there is a chance he will be charged for his part in the downfall of Hanover Finance, but would defend himself against any claims because he did not knowingly do anything wrong.
Hotchin, who last night launched a public relations blitz on nationwide television, also rejected claims he sold Allied Farmers a lemon when he agreed to a debt for equity swap with the listed company.
Speaking on Newstalk ZB this morning Hotchin said anything was possible because Securities Law was so wide, but rated the chance of being found guilty of any such charges as "relatively low".
"If you look at a prospectus there are so many words in it. You only have to get one of those wrong to get a default ... but in terms of knowingly misleading or doing something wrong, no."
Hanover Finance is being investigated by the Serious Fraud Office and the Securities Commission.
Hotchin described his life as "very difficult" and "pretty miserable" following the collapse of Hanover, but said he was not worried about going to jail because he did nothing wrong.
Hanover and its associate, United Finance, froze $554 million of investors' funds in 2008.
Hotchin also told TVNZ's AMP Business programme this morning that the debt for equity swap with Allied should have worked - had Allied stuck to its plan.
"They (the investors) backed this deal, they got sold a concept that was never put in place," he said.
Hotchin last week went on the offensive, claiming that Allied Farmers - which took on much of its business - had lost shareholders' money through mismanagement.
Hotchin and chairman David Henry said they were "alarmed at the continuing erosion in the value of assets" that were transferred to Allied under the swap.
However Hotchin has denied claims he was trying to make Allied's managing director Rob Alloway, who he wants sacked from his role, take the blame.
"I think he is trying to make me his scapegoat," Hotchin said.
"Since the day they have got it they have blamed Hanover or me for every single thing that's ever gone wrong with their business," he told AMP Business.
"Not only are we trying to defend ourselves, we can also see the value erosion that has happened and the mum and dad investors who we helped convince do this deal are losing money."
"What I'm trying to do is bring some attention, on behalf of the investors in Allied, to the issues that are surrounding that company," he said.
Exposing Unacceptable Financial Advice spokesperson Suzanne Edmonds said Hotchin's appearance on television had demonstrated to New Zealand "that if you cripple people with your greed ... you can get prime time TV and say "sorry" in a bid to be forgiven."
"True sorry to investors would equate to all Hotchin's frozen assets being returned to Hanover investors, giving Mr Hotchin the opportunity to start again if the pot were dry," she said.