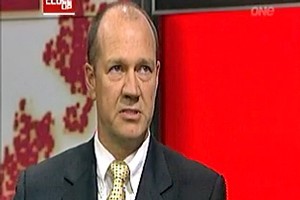 Embattled financier Mark Hotchin has apologised to investors who lost money when Hanover Finance collapsed but strenuously denied he was living a life of luxury in a live television interview this evening.
Hotchin appeared on TV One's Close Up programme in an interview with Mark Sainsbury tonight.
Hotchin, who has been widely criticised for "living the high life" in Australia while former investors are left out of pocket, repeatedly apologised for what happened.
"I felt sorry right the way through," he said. "This was never the plan."
But he vehemently denied living a life of luxury while investors suffered.
Hotchin, who now lives on Australia's Gold Coast with his family, admitted his 50th birthday party in Fiji two years ago was "ill-timed" but said guests paid for themselves to get there.
He also conceded taking his family to Hawaii on holiday was, with the benefit of hindsight, a mistake.
On his incomplete $30m mansion on Auckland's Paritai Drive, Hotchin said it wasn't a "vanity project" but admitted "it grew over time and ended up somewhat larger than we anticipated".
The home is owned by a family trust, which Hotchin said he was unable to talk about.
"Ninety percent of the lavish lifestyle stuff is exaggerated," he said. "The house obviously makes it very difficult... but all these other references are just not true."
When Sainsbury suggested investors thought Hotchin was "rubbing their noses in it," he said "Yes, I know."
But he denied living a lavish lifestyle. "We rent a ground floor apartment," he said.
When Sainsbury said: "You're not broke, are you?" Hotchin replied "I am at the moment," and denied having any money "stashed away".
"My assets are frozen... My personal wealth is incredibly low. I'm not sure how relevant it is... but my financial position now compared to three years ago is dramatically different. At the moment I'm far from a millionaire."
Hotchin last week went on the offensive, claiming that Allied Farmers - which took on much of its business - had lost shareholders' money through alleged mismanagement.
Hotchin and chairman David Henry said they were "alarmed at the continuing erosion in the value of assets" that were transferred to Allied Farmers under a debt for equity swap and are calling for its managing director to be sacked.
More than 16,000 investors lost more than $500 million they had invested in Hanover.
He continued his attack on Allied in tonight's interview. "Certainly this wasn't what we intended," he said. "We got sold a dream, thought it made sense and helped them deliver that opportunity.
"The whole point is we were sold a concept and they haven't delivered. They haven't even come close... they had a plan and didn't stick to it."
When Sainsbury asked "Are you saying you were hoodwinked?", Hotchin agreed.
"We'd sold the assets to Allied and thought they were going off to a better life."
The Securities Commission gave Hotchin a $1000-a-week allowance after freezing his New Zealand assets late last year, but he was widely reported as saying that wasn't enough.
In tonight's interview, the Hanover co-founder said: "I can live on $1000 a week if I was in my home, but being in temporary accommodation, it was tough."
But he said he had agreed to the amount and hadn't demanded more.
Asked why he left New Zealand in the wake of the company's collapse, Hotchin said it was to protect his children from "the constant media attention".
He denied he was bitter that Hanover co-founder Eric Watson, who lives in London, "got away scot-free".
"The overriding factor is he doesn't live here."
Asked what he wanted to say to investors, Hotchin said: "The biggest thing is I'm sorry - this wasn't the intention.
"We set about trying to build a business we thought would stand the test of time. When we had to stop trading, to give some comfort to investors we put in a lot of money... We thought the best thing for investors was to do the Allied deal."
Asked why he was finally fronting up to media, Hotchin said: "Of course I don't want to be sitting here, I'm not really enjoying it.
"I'm doing it because a lot of people have lost a lot of money. If Allied had stuck to their plan we wouldn't be here today... There are no easy solutions. I know people are hurt, upset and bitter - I understand that."
When asked if he was he was frightened to walk down the street, Hotchin said no.
He also said he was adamant his wife Amanda hadn't told a Sunday Star-Times reporter: "We don't have to justify where we get our money from or what it is spent on to anyone. I don't care what anyone says."
"No, it didn't happen," said Hotchin. "I was nearby and, more importantly, I know her.
He said he was in the process of suing the paper but after his assets were frozen it "made it more difficult".
Hotchin awaits a decision by the High Court on whether his New Zealand assets, which are worth millions, should remain frozen.
The Securities Commission announced in December it had been granted a court order which froze his New Zealand assets in case any of investors took action to reclaim their investments.
When asked about if he was worried about the investigations into Hanover's collapse, he said: "No executive or director of any of the Hanover companies has ever knowingly done anything wrong."
At the conclusion of the interview, Sainsbury read out some reader feedback, most of which suggested the appearance was a PR stunt and Hotchin's remorse wasn't genuine.
- NZ Herald staff