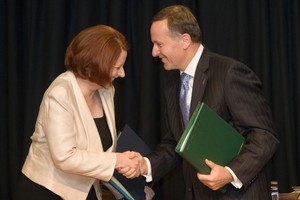 Australia's buy-up of New Zealand businesses has strengthened our economy and delivered more jobs, Prime Minister John Key said as he and his Australian counterpart, Julia Gillard, removed barriers to further transtasman deals.
The two leaders yesterday signed the Closer Economic Relations Investment Protocol, which makes investment easier by raising the thresholds at which proposed deals need government approval.
In New Zealand's case the threshold above which a transaction requires Overseas Investment Office approval goes from $100 million to $477 million. New Zealand investments in Australia will now require Foreign Investment Review Board approval only if they exceed A$1 billion ($1.3 billion) in value, up from A$231 million.
While the Australian concession appears particularly generous, data shows New Zealand investment across the Tasman has been dwarfed by Australian investment here. Over the past five years, a period during which there were several large acquisitions of local businesses by Australian interests, New Zealand investment in Australia has increased 53 per cent while Australian investment here rose 80 per cent to more than $100 million.
"We've seen significant investment from Australian companies in New Zealand," said Mr Key, moments after inking the agreement with Ms Gillard.
"They have been the major investor in our economy and I believe our economy's been stronger and delivered more jobs as a result of that investment. You can see that domination in the banking system and other sectors of our economy."
Similarly, Ms Gillard said the investment agreement simply meant "more prosperity and more jobs" for both New Zealand and Australia. However, Greens co-leader Russel Norman, himself an Australian, said New Zealand was ceding control over incoming investment.
"There will be times where it doesn't make sense for us to have a very large New Zealand firm worth up to half a billion dollars bought up by an Australian company, and we've now lost the ability to control that."
Australian buyers of businesses here were not necessarily going to act in New Zealand's interests, Dr Norman said.
"If you look, for example, at what the Australian banks have done in New Zealand, they've had a pretty predatory approach," he said.
Mr Key said foreign investment always had its detractors.
"I come from the camp that believes it's enhanced New Zealand's economic growth and therefore the wellbeing of our citizens by being supportive, and really that's what the protocol is attempting to do."
The new screening thresholds apply only to investments in significant business assets. Thresholds for other assets including sensitive land and fishing quotas are unchanged.
BIG SPENDERS
NZ investment in Australia
2005 - $23.8b
2010 - $36.3b
Australian investment in NZ
2005 - $55.6b
2010 - $100b