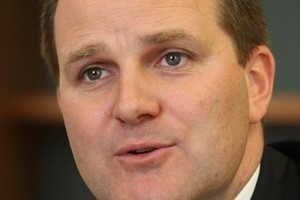 A Labour MP held up a pumpkin in Parliament today as the Government continued to face criticism over its Community Max welfare projects reported to have cost hundreds of thousands of dollars with little result.
But Justice Minister Simon Power, speaking on behalf of Social Development Minister Paula Bennett, said about 70 per cent of the young people who had graduated from the projects were no longer on any kind of benefit and the Government was going to keep them going.
A TV3 investigation of projects funded by the programme discovered an overgrown 1.6ha garden with one pumpkin in it.
The Ministry of Social Development had described it as "up and running and supplying food to many elderly people".
The community garden and a scenic reserve project cost $317,000.
The scenic reserve had a wooden sign but was virtually inaccessible, the report said.
Mr Power said the reporter turned up eight months after the scenic reserve project ended, and hadn't mentioned that of its 24 participants, 13 were still off benefits altogether.
"These schemes are designed to give these people life skills, get them out of bed in the morning and give them a commitment to a purpose during the day," he said.
"It's a $13,000 investment over six months which is a lot cheaper than funding someone going on and off an unemployment benefit for the next 10 years."
Labour's Jacinda Ardern held up a pumpkin and asked why more than $300,000 was spent on a garden.
Mr Power said a number of the project participants were now off benefits.
Another project run by Kawerau's City on a Hill Christian Church, which described itself as a charitable trust, was reported to have been given $334,000 and government officials said its young participants were involved in making sheets, pillow cases, tea towels and curtains for the local marae.
But a woman running it admitted it took a long time to set up and the group instead spent six months altering clothes from second-hand shops.
Earlier today Labour leader Phil Goff said he was worried about value for money and the quality of the programmes.
"We thought Community Max was a bit of a lemon but it turned out to be a pumpkin," he said.
In Parliament, Mr Power said the previous Labour government gave gangs money for pilot employment projects and they used it to improve their headquarters.
Finance Minister Bill English said concerns raised so far did not indicate significant problems.
He said the projects were monitored and were meant to get young people work-ready.
"If you turn up eight months after a gardening project is finished...you are likely to find an overgrown garden," he said.
Ministry deputy chief executive Debbie Power said in response to questions from NZPA that the vast bulk of the money spent on the projects went on paying wages to people who would otherwise have been on a benefit.
She said the ministry had approved the change in the Kawerau project from sewing linen to altering clothes and the contract was worth $46,109.
The garden project ran from January to last July and produced "a substantial amount" of vegetables for the local community.
"The Ministry of Social Development strongly refutes claims being made by TV3 last night about the Community Max schemes," Ms Power said.
"We stand by our administration of the Community Max scheme. It has provided several thousand, mainly young, New Zealanders with low or no skills the opportunity to gain work and work experience through community projects during a period of high unemployment - particularly for youth."
- NZPA