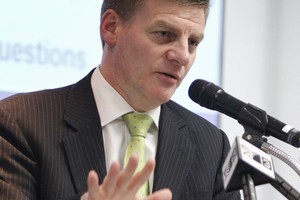 Labour and the Greens are flinging mud at the Government over a programme accused of wasting thousands of tax payers' dollars funding an overgrown 1.6ha garden in the Far North with one pumpkin in it.
The Ministry of Social Development had described the community garden and a scenic reserve project, allocated $317,000 under the Community Max programme, as "up and running and supplying food to many elderly people", a TV3 investigation revealed.
Kawerau's City on a Hill Christian Church, which described itself as a charitable trust, was given $334,000 and government officials said its young participants were involved in making sheets, pillow cases, tea towels and curtains for the local marae.
But a woman running it admitted it took a long time to set up and the group instead spent six months altering clothes from second-hand shops.
Labour leader Phil Goff said he had concerns about value for money and quality of the programme.
"We thought Community Max was a bit of a lemon, but it turned out to be a pumpkin," he told reporters.
"What we need to do is to be giving our people, our young people, the skills that they can take forward in to the future and those sort of programmes don't do that."
He said the scheme was about hiding youth unemployment statistics and had not provided long-term benefits.
Mr Goff also raised concerns about Social Development Minister Paula Bennett being out of the country - on a study fellowship in the United States - when her portfolio needed attention.
He said there were also problems with boot camps, highlighted yesterday, which recorded high re-offending rates.
However, Finance Minister Bill English said the concerns raised so far did not indicate significant problems.
The projects were monitored and they were meant to get young people work-ready.
"When we review the results then that's what we will be looking at.
"But if you turn up eight months after the gardening project is finished, after the vegetables have been pulled out of the ground and given away and sold then you are likely to find an overgrown garden."
The scheme, and another - Jobs Op - may get further funding.
"It is certainly legitimate to be asking questions about whether they work, of course the alternative is not doing anything and that could be more damaging for young people."
Green Party co-leader Metiria Turei said the schemes were developed in haste and did not provide for ongoing job creation.
She said Ms Bennett was quick to trumpet the success of Community Max and Boot Camps, while at the same time threatening benefit cut-backs for our most vulnerable citizens.
"With the gap between the haves and the have-nots widening and unemployment growing, we need careful job creation strategies, not populist schemes to plaster over the harsh reality of punitive welfare reform."
- NZPA