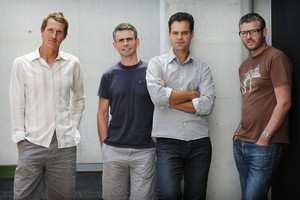 When English management consultant Dan Heyworth and project manager Nat Holloway first came to New Zealand in 2003 with their partners, the brothers-in-law had no children and just an idea for a business.
"When we got here the quality of houses was not what we were used to," says Heyworth.
Seven years on, they have six children, and their business, Arhaus, a specialist construction company for architectural homes, is well established.
The founders take a collaborative approach to house building, grouping the professionals needed to build a house - the architect, technical draftsman, landscape architect, soil engineer, quantity surveyor, project manager - to see the project through.
The custom-designed homes Arhaus build are for the lucky minority who can afford architects and the very best of sustainable materials.
Meanwhile, taking some of what they have learnt from Arhaus, Heyworth and Holloway have started a sister company which they have set up with architect Tim Dorrington and builder Nat Jakich to offer New Zealanders their own taste of architecturally designed housing - but with certainty on cost and project completion.

There had to be a more efficient, cost-effective way of building a home with architectural input, says Heyworth.

"Also, it was something I wanted to do for normal people - most people who come to us have big budgets."
He reckons only 3 to 5 per cent of the population can afford architects.
The result is Box Living (Boxliving.co.nz). It offers a hybrid of custom architectural design and pre-fabrication. The homes are sold in modules which combine to create spaces.
Their aim is for Box Living to be one of New Zealand's main housing companies positioned at the higher end of the house design-and-build market.
The Box Living team came up with a box style drawing on influences from internationally renowned architects such as Pierre Koenig, Craig Ellwood and Ludwig Mies van der Rohe.
"We all like that modernist style - simple, elegant, lots of light - and lots of bespoke houses have this," says Heyworth.
The model is already winning awards. Box Living's entry of their recently built modular-concept home in Muriwai was highly commended in the Residential Architectural Excellence Awards for 2010.
Compared to a custom-designed home, the Box Living option can reduce construction costs by a third to a half, says Heyworth.
"Within two weeks of having the concept, people can have a fixed price, with no shocks." Prices range from $80,000 to $100,00 for a studio/home office to the popular three-bedroom house for $300,000 to $350,000.
The most expensive one they are doing is around $600,000.
Because of public demand, the team is now offering a Box Living design with a pitch roof,
and Heyworth is expecting more interest when their new website starts up next month.
Some clients are mixing it up.
One Arhaus client asked for a Box Living studio/home office to be built in his garden. Box Living is also building a first home for a couple in Wellington.
The couple, in their late 20s, are setting out a master plan which will emerge over the years, but they will be starting small.
A live/work office and apartment project is planned on a slim site in Grey Lynn using the Box Living model. The three-storey building will have an office on the first floor and an apartment on the second and third floors.
The Box Living team partners are keen to be involved in the growing urbanisation of New Zealand.
Says Heyworth: "We are looking to get into higher-density building. That's going to happen."
- NZHERALD.CO.NZ
For more in the Your business series go to nzherald.co.nz/business