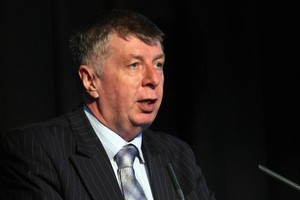 The time has come for every business in the country to be given a single identifying number and hurdles such as privacy concerns will be overcome to make it happen, the Small Business Minister says.
Maurice Williamson made the comments in an address to accounting software company Xero's annual partner conference in Taupo last week.
Xero founder Rod Drury has been vocal in his support for a unique business number for companies to use with all government agencies and the private sector.
Williamson said a unique business number had huge potential to link with other projects the Government was working on to make lives for businesses easier.
"I think it's a great idea whose time has come."
The Ministry of Economic Development and the Inland Revenue Department are considering the design of a system that would allocate every business a single number that would be recognised on both sides of the Tasman.
The aim is to reduce significantly compliance and reporting costs.
At present, companies have different numbers for the Companies Office, tax and GST, ACC, the Department of Labour and Statistics New Zealand. Australia introduced the Australian Business Numbers in 2000.
However, the planned system runs into problems when it comes to sole traders.
Principle 12 of the Privacy Act says a unique identifier assigned to an individual by one agency cannot be used by another agency.
Possible solutions are either changing the law so that an existing government identification number can be used by multiple agencies, or introducing a whole new number for every New Zealand company.
Privacy Commissioner Marie Shroff said there were significant benefits to having a single business number and the issue of personal information relating to individual business people was being considered.
"Privacy isn't a roadblock to setting up a single business number for sole traders. There's a range of ways to get it right and we've been discussing these with MED and other interested agencies."