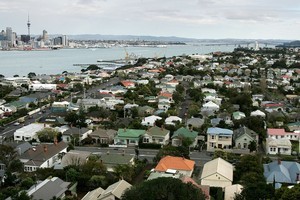 Rental prices have risen in many areas of Auckland over the past year - some by up to a quarter - with a real estate agency expecting another surge because of a shortage of property.
The median prices for a three-bedroom house in Takapuna and Remuera have shot up by 25 and 26 per cent since December 2009, while rents in the city centre have risen 16 per cent, according to figures from Crockers.
Michelle Jones, general manager of Crockers, said such figures always naturally lagged behind what was happening in the market.
Even though it was always busy as students returned to university, Ms Jones said demand for rentals was still remarkably high. Crockers recently had 70 people turn up to an open home for a rental property in Ponsonby, and had up to 50 at other viewings.
"That's not the usual."
Landlords in central Auckland suburbs have reported an increase in demand in recent months, with one property in Kingsland attracting more than 200 would-be renters during a half- hour open home.
However, the median rent for a three-bedroom property in Mt Eden (including Kingsland and Balmoral) rose a modest 2 per cent in the year to December. Crockers said it expected the median to rise this year.
Epsom, Howick and Manukau/Manurewa were some of the worst performing suburbs, with all recording no rise in rents over the one-year period. In some areas, median rents dropped, with Birkenhead (-5 per cent), Waterview (-3 per cent) and Mt Roskill (-3 per cent) among the biggest losers.
Crockers' figures were sourced from the Department of Building and Housing, which compiles them through its bond registration service.