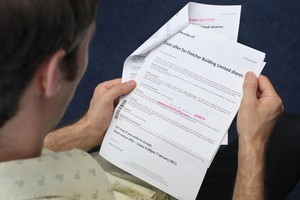 An insolvency specialist believes the low-ball offers made by companies associated with Bernard Whimp could be stopped under legislation which allows companies to refuse a share transfer.
But Vector, which last week revealed more than 300 of its shareholders had accepted a highly discounted offer by Whimp's Energy Securities, said it could not stop the transfer because of stock market rules.
John Vague reckons under section 84 of the Companies Act 1993 company boards could refuse to allow the transfer of shares provided it notified the seller and offerer of its reasons for refusal.
"It could be refused on the grounds that the seller wasn't getting proper value for money and the person wasn't fully informed of the facts."
But a Vector spokeswoman says the sharemarket listing rules require companies to restrict the ability to refuse transfers.
Under Vector's constitution its board can only refuse transfers if there is a loan or a charge over the shares, the owner of the shares fails to show they have the right to transfer them or the transfer would result in less than the allowed minimum shareholding.
HANDS TIED
NZX spokeswoman Rowan Macrae says the NZX rules were put in place to prevent listed companies from being able to unreasonably restrict the buying and selling of shares in their company.
Only under certain circumstances, such as the company being a co-operative, are specific provisions allowed.
Macrae said Whimp appeared to be taking advantage of a gap in New Zealand law which did not require offers to include the current share market value of a listed company.
"Whimp has complied with the legislation as it currently stands by inserting a paragraph that states shareholders should seek advice before accepting the offer. However, there is one piece of information that - if included - would resolve this issue.
"We would fully support the principle that these offers should be required to include information on the current market price for the shares. This is the case in other jurisdictions."
EASY MONEY
Unfortunately Whimp's Christmas offer to shareholders of seven listed companies appears to have really paid off.
Although not all of the share transfers have been registered, Stock Takes has done a quick tally up and it seems he has made close to $487,000 so far from the low-ball offer scheme.
Vector still remains his biggest win at $298,567 from around 300 shareholders. While Fletcher Building has had 70 shareholders request transfers for 61,178 shares netting Whimp around $127,862 if they all go through, although Fletcher has said some applications don't meet the proper requirements.
Only 11 Nuplex shareholders have sold up but at around 50,000 shares that's a gain of $54,000.
Fisher & Paykel Appliances was his lowest pay-off with 16 shareholders selling 27,000 shares making $6480.
But there is likely to be more to come.
Trustpower says around 150 of its shareholders have applied for transfers but the company is not yet sure how many shares will need to be transferred.
Telecom also says it hasn't yet received any requests and Stock Takes couldn't get the numbers in time for Guinness Peat Group because of time zone differences with its London office.
WIN WIN
Fletcher Building is celebrating two wins this week after receiving backing from Crane Group's board for its takeover offer and Standard & Poor's saying it would change the way New Zealand companies are included in the Australian stock exchange indices.
Under present rules New Zealand companies are automatically classified as domestic and their inclusion in an index is based on total market capitalisation and liquidity.
Telecom is the only company to qualify for the all-important S&P/ASX 200 which means it automatically gets invested in by those funds which track the index.
But from March 21, New Zealand ASX-listed companies will be subject to new rules which will take into account how many Australian shareholders they have.
Fletcher Building, which despite being bigger than Telecom by market capitalisation has previously failed to meet the liquidity targets, is expected to qualify for the top 200.
Royal Bank of Scotland analyst Andrew Scott said Fletcher Building's inclusion was now likely.
"FBU's adjusted Australian market capitalisation gives it a ranking of 113 which would comfortably allow S&P/ASX 200 inclusion."
ON THE UP
Fletcher Building's Philip King reckons the company could even make it into the top 100 if the Crane deal goes ahead increasing Fletcher's Australian shareholder base.
The offer closes on February 25 and must still receive 90 per cent approval. Fletcher presently owns just under 15 per cent but its share is expected to start edging up after Monday after Crane releases its revised target statement.
A number of institutional investors are understood to have indicated they will accept the offer soon after.
Crane's high number of retail investors are expected to follow the board's recommendations.
Analysts expect the deal, which must also gain regulatory approvals, to be sealed by March although any financial gains made through bringing the businesses together aren't expected to hit the bottom line until Fletcher's 2012 financial year.
Fletcher Building shares have risen 16c in the past four days on strong turnover and closed on $7.91 yesterday.
GOING DOWN
Unfortunately, on the flip side Telecom will be a potential loser with the index changes although it is expected to stay within the top 200.
Telecom said on Wednesday it expected its weighting in the indices to fall by 25 to 30 per cent.
It was ranked about 60th out of 200 in the December review by S&P. But in a report by Forsyth Barr, put together for the consultation process, Telecom's rank was expected to fall to around 123 under the new rules.
Telecom shares fell 7c on Wednesday to $2.22 and yesterday closed on $2.20.
ACCIDENTAL TRADE
Grant Samuel's independent report into the Hill family's bid to increase its stake in jeweller Michael Hill International has revealed ACC was forced to sell 216,000 shares it wasn't supposed to buy after an inquiry from the Takeovers Panel.
ACC bought the shares after signing a pre-bid agreement with the Hill's company Durante Holdings to sell its existing stake of 3 million shares into the offer if it goes ahead.
Under the Takeovers Code those who reach pre-bid agreements can be considered an associate of the bidder.
ACC did not believe it was an associate but has agreed not to buy any more shares or rights to shares while either the pre-bid agreement or the offer is valid.
Durante Holdings owns 47.63 per cent of the company and wants to move to 50.2 per cent. It is offering 90c per share. But the independent report has advised shareholders that there is no compelling reason to sell into the offer. MHI shares last traded at 90c.