* For the latest travel advisories from the Ministry of Foreign Affairs and Trade on the situation in Egypt, see safetravel.govt.nz.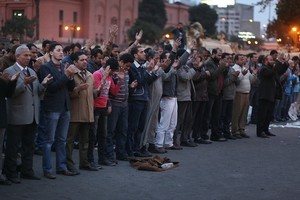 Political unrest in Egypt could mean New Zealanders paying more at the petrol pump, after oil prices climbed to their highest point in 28 months.
As New Zealand authorities move to get travellers out of Egypt safely, traders say the rallies could have an economic knock-on effect here.
The demonstrations across Egypt have rattled global oil markets, pushing the cost of a barrel of oil above US$100 for the first time since the global financial crisis in 2008.
ASB chief economist Nick Tuffley said if the conflict lasted for a long time, New Zealanders could see a spike in petrol prices.
Egypt is a minor oil producer but it controls the Suez Canal and an adjacent pipeline which ships a combined two million barrels of oil every day. Mr Tuffley said markets had already reacted to the demonstrations, as concern grew about key shipping lanes and the threat of wider instability in oil-producing regions in the Middle East.
Automobile Association Petrolwatch spokesman Mark Stockdale said fuel price increases had already been predicted for this year on the back of an expected economic recovery.
"Political unrest could exacerbate that and lead to a higher price than was predicted - that's going to have a flow-on effect."
Last month petrol rose above $2 a litre for 91 octane.
It now costs between $120 and $140 to fill up the average car - $20 more than a year ago.
"Although the advertised price at most stations is $1.999 a litre, to all intents and purposes it's $2 and that will be pause for thought for some motorists," said Mr Stockdale.
He added that the $2 mark was a psychological barrier which could force social change.
"Back in 2008, when it went above $2, people really started to think about their use of the car - reducing trips to the shops - and looked more seriously at car-pooling and public transport."
The potential rises follow a price increase of nearly 20 per cent last year.
New Zealanders are now paying twice as much for petrol compared with nine years ago.
Yesterday, 60 of the 299 New Zealanders in Egypt had left the country. A further 120 New Zealanders contacted by the embassy are considering leaving, while another 66 will only leave if they have to.
Prime Minister John Key said the Government was following the lead of other countries in opting for commercial flights to get travellers home.
"We are actively working with Air New Zealand and a number of other airlines and have block bookings for those who wish to fly out."
Mr Key said a charter plane or military plane could be used if the unrest intensified. But he noted that only small numbers of New Zealanders wanted to leave.
"That could increase. There's a very large protest tonight and there are some people hunkered down in their homes who don't necessarily want to go to the airport immediately."
The earliest an available Air Force 757 plane could reach Egypt would be Friday.
The Ministry of Foreign Affairs and Trade is warning New Zealanders against travelling to Egypt, saying there is an extreme risk to security.
It is advising all New Zealanders in the country to stay indoors unless they have departure arrangements in place.
Vodafone NZ has taken on 100 extra staff after the rallies forced the temporary closure of its Cairo call-centre.
The company was committed to reopening the centre - the only foreign office of its four call centres - but has evacuated its New Zealand staff and sent local workers home.
- additional reporting Hamish Fletcher