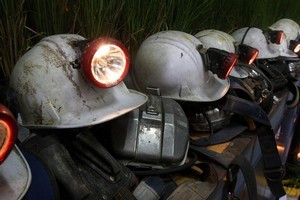 There's a "strong possibility" Pike River Coal mine contractors will never receive money owed to them, a receiver says.
Around 80 West Coast contractors and suppliers are owed more than $8 million dating back to October.
Companies with more than 200 employees were contracted to Pike River Coal at the time of the explosion at the mine that killed 29 men, including 13 contractors.
Receiverships were usually quite complex but the Pike River Coal mine situation was one of a kind, receiver John Fisk, of PricewaterhouseCoopers, told NZPA.
"The extra dimension that's created with the loss of 29 men in the mine and the circumstances make it quite unique and present different challenges to us."
When asked if there was a chance the contractors would never get paid, he said: "That's a strong possibility still, yes."
He said the contractors understood they were unsecured creditors, under receivership law, and could not be paid before secured creditors.
He was aware some contractors were under "severe financial pressure".
PricewaterhouseCoopers announced last month work would continue for up to eight weeks to try to ensure stability of the mine's environment.
The challenge for the receiver was to get the best out of a very difficult situation: "that's what we do."
If the receiver could get the mine running again, then the chances of contractors being paid were far higher.
"We're positive about the plan that's been put in place...but it's not over yet," he said.
Otherwise, contractors could only be paid if there was still some value in the mine that could be "realised".
"There is a lot of uncertainty there at the moment about what assets we will actually have to sell," he said.
When asked about the emotional toll of being a Pike River Coal mine receiver, he said: "How would you describe it? I have a lot of respect for the families and a lot of empathy for the position that they've found themselves in, along with everyone else from management and the employees down".
Mr Fisk said the receivers were finalising the handover of management of the mine with police, who had ended their recovery operation, and it should be completed in the next few days.
He had no comment about reports police owed contractors, who worked during the recovery effort, tens of thousands of dollars.
A coronial inquest last week into the deaths of the men found all 29 men had died on November 19, either during the first explosion in the mine or very shortly afterwards.
Judge Neil MacLean said it was also clear the cause of death was the result of a "substantial explosion and the combination of concussion and thermal injuries...together with acute hypoxia through exposure to toxic gases and lack of oxygen".
A Royal Commission of Inquiry into the men's deaths will be held this year.
- NZPA