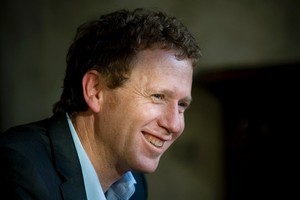 The fairest tax system would include a capital gains tax, excluding the family home, but neither National nor Labour has the courage to implement it, Green Party co-leader Russel Norman said yesterday.
Dr Norman made his call in a state-of-the-planet speech setting out his vision for a "smart green economy".
It is one that embraces market mechanisms and economic growth if they keep New Zealand clean and green.
"Smart green economics is about having the courage to make changes our tax system needs so that we don't dump our debt on our grandchildren," he said in the Auckland suburb of Pt Chevalier.
The tax forms part of the Greens' policy aimed at reducing inequality of income.
The cash deficit this year was $15.6 billion and government debt is forecast to be $84 billion by 2014.
Dr Norman said the borrowing had been for tax cuts targeted at the wealthiest and that was "reckless and immoral".
Prime Minister John Key was using the debt his Government had created to justify the privatisation of public assets.
"Instead of inheriting public assets, the next generation will inherit $84 billion in National Party debt. National needs to stop bludging off our grandkids," he said.
The truth was that the Government needed more revenue and the Greens were the only party willing to put forward a serious plan to generate revenue, a capital gains tax excluding the family home.
It would move capital away from property speculation and towards the productive sector; reduce house prices, helping to make home ownership a reality for more New Zealanders; and it would reduce spiralling government debt.
Dr Norman said National was bereft of economic vision in the wake of the "catastrophic collapse" of the neo-liberal economic model.
"The old order is dying but what will replace it?"
The next economic wave would be "smart green economics" which took the best from Keynesian policies and the best from free-market economics within the framework of a planet with finite resources.
He said New Zealand's 100 per cent Pure brand was worth $18 billion a year to the country and could be worth more.
He also said the global market for clean technology, goods and services was already worth $400 million a year and was going to grow to $2 trillion by 2017.
"If we can access just a fraction of this market we will prosper."
"Clean and green" was the foundation of the country's prosperity. It was behind the multibillion-dollar tourism industry.
Clean, green and safe was the brand that resulted in the dramatic increase in dairy exports to China after the melamine scandal.
"To keep clean and green we must retool our economy."
That included market signals that internalised environmental damage, a price on carbon, water and waste so prices reflected real costs, and strong regulation to clean up water, cut greenhouse gas emissions and protect the country's natural capital.
"By making prices better reflect true environmental costs and introducing real environmental regulation, we reward those businesses who play nicely with nature."
NORMAN CONQUEST
I am only here today because of the opportunities provided to me and my family.
Both my grandfathers were out-of-work heavy-drinking carpenters who barely survived the Depression with their families intact.
My mother never went to high school and at 13 went to work in a paper bag factory. My father grabbed the chance to learn a trade, becoming a fitter and turner, then an engineer.
We grew up in a Housing Commission house in Brisbane where I shared my room with three brothers. We all went to the local state school. I was the last of six children and the first to go to university.
My family had opportunities thanks to good public education, affordable stable housing, decent wages and conditions, and social security. All of this was part of the struggle of the union movement.
My family climbed out of poverty on a ladder paid for by other people's taxes. In turn, my family has paid taxes to provide a ladder for someone else.
Michael Joseph Savage called that social security.