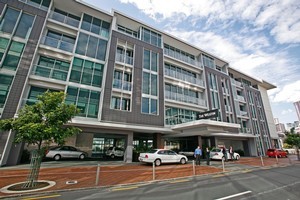 Christchurch developer and hotel operator Graham Wilkinson hopes to announce a deal with room owners in Wellington's Holiday Inn this week to take over running the Featherston St property.
Most of the $100 million hotel's 280 rooms were sold to individual investors, many from overseas, who have battled to get rent they are owed by hotel managers Galway Tourism Investment Group.
Galway is part of Nigel McKenna's Melview group, which developed the hotel. The development company was placed in receivership and liquidation in November 2009.
Wilkinson said the final touches had yet to be put on the deal but most unit owners had agreed. "It's taken a long time but we've managed to come up with a structure."
Meanwhile, Wilkinson and 116 owners of rooms in Auckland's waterfront Westin hotel, also developed by Melview, are awaiting a court decision they hope will clear the way for a similar deal. Only 58 of the plush hotel's 172 rooms are open following an impasse between the owners and receivers of the McKenna company Lighter Quay Hotel Management (LQHM).
The mainly Singaporean and Malaysian owners say LQHM owes them $3.8 million in unpaid rent and gained a court order last year to cancel their leases with the management company.
The rooms have been locked since September. Neale Jackson, a spokesman for receivers KordaMentha, confirmed there had been no progress in resolving the dispute. "[Owners] have rebuffed any attempt we have made to settle with them."
Wilkinson said owners had offered to buy the other 58 rooms from the receiver, or to make their rooms available, if they were paid on the basis of rent received or a profit share.
Owners said one of the sticking points was that under the old leases they were required to pay $2.5 million a year to use the common facilities.
The owners went back to court in October to challenge the body corporate rules which currently prevent them from holding an extraordinary general meeting and using their majority ownership to take over the operation of their rooms.
The decision was due any day and owners hoped this would clear their way, Wilkinson said.
"I have ... arranged that in the event that we secured the rooms but not the public spaces we could still run the hotel as serviced apartments."
This would lead to a situation where part of the hotel was operated by owners and the other part by the receivers, a set-up those on all sides say would be far from ideal with the Rugby World Cup fast approaching.