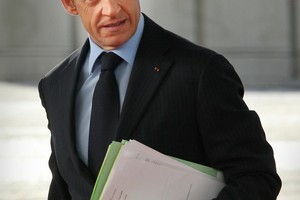 French President Nicolas Sarkozy has promised to defend the European single currency to the death, vowing he would never allow it to be destroyed by economic crises or speculators.
Sarkozy said he and German Chancellor Angela Merkel remained absolutely committed to the single currency, not least because closer European integration had been the key to avoiding conflict in the six decades since World War II.
Sarkozy said that while there would need to be more work and further compromises to resolve the sovereign debt crises that have wreaked havoc in the peripheral members of the eurozone, including Greece, Ireland and Portugal, market speculation that the euro would collapse had proved wide of the mark.
"I remember reading six months ago that the euro was dead, that it would surrender, that it could not survive, but the euro is still here," he said. "Chancellor Merkel and myself will never drop the euro - we will never turn our back on the euro," he pledged.
"The euro is Europe and Europe has brought 60 years of peace on our continent: we will never let the euro go."
Sarkozy's passionate defence of the single currency will undermine those analysts who have argued that the political differences between members of the bloc, particularly on the issue of sovereign debt, would inevitably lead to weaker members leaving, or being forced out.
Nevertheless, serious question marks remain over how the eurozone debt crisis will play out this year. While Portugal's first two bond auctions of 2011 proved successful, speculation continues that it will eventually be forced to seek a bailout in the same way as Greece and Ireland were. That would be likely to lead to a crisis in Spain, where the cost of a rescue could prove too large, certainly for the mechanisms set up so far by the European Union.
Both France and Germany have so far been reluctant to countenance large increases in the funds put in place for bailouts. Reforms that would see creditors to indebted countries suffer losses are also still at a delicate stage of negotiations.
Sarkozy, speaking to the World Economic Forum in Davos, in his role as president of the G20 group of the world's largest economies, did not address such controversies directly.
However, he said members of the G20 would have to move away from confrontation as they sought to further reform the world's financial systems in the light of the credit crisis.
- INDEPENDENT