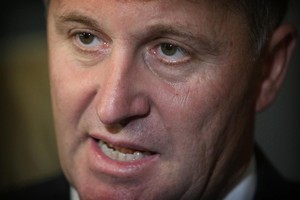 Prime Minister John Key intends to stick to his guns over partial sales of state assets today, saying negative opinion was unlikely to sway him.
In his first major speech of this election year, Mr Key announced yesterday that power companies Mighty River Power, Meridian, Genesis and coal company Solid Energy were being looked at for partial sale - up to 49 per cent - and advice was also being sought on reducing Crown shares in Air New Zealand from 75 per cent to 51 per cent.
The partial sales would help fund a forecast $33b of new assets over the next five years, meaning the Government would not have to borrow as much and pay more interest.
The National government has promised no asset sales in its first term and the issue is sensitive after unpopular sell-offs in the 1980s and 1990s. Mr Key said decisions would not be made until advice was provided but he wanted the public to know the direction.
Today, Mr Key said he expected Treasury to support the proposal.
"They'll certainly want to make sure that New Zealand's credit rating is maintained and hopefully improved."
Asked if National would change its position if it was very unpopular Mr Key said: "That's not going to be the driving factor.
"What we're trying to do is explain to the country that New Zealand has a debt problem. We are going to campaign on being fiscally responsible."
The Government has been accused of flip-flopping in the past over canning plans for mining on conservation land, and for retaining Labour policies like interest free student loans and working for families.
"We always like to listen to people and engage, but, at the end of the day, we have to think about the alternatives and they are either build less assets, we borrow more money and get downgraded," he said.
"Ultimately there is public consultation, and that's the election."
He said future sales of other assets were not part of the debate now and he would not be drawn on them.
Labour continued its attack, saying the Government was selling the family silver and companies would end up in foreign ownership while consumers faced higher charges.
"Does anyone really believe there is a competitive market in electricity which will hold prices down?" Labour's economic Development spokesman David Parker said.
Dividends would go to shareholders and a lot of the money would go offshore. Mr Parker said National's tax cuts had benefitted the wealthy and those same people would be the ones might likely to get the shares.
Progressive MP Jim Anderton said the sales would not reduce debt and the Government had not learnt the lessons of the 1980s and 1990s.
"When assets are sold the revenue stream they contribute to the government is also lost."
Green Party co-leader Russel Norman said the Government was racking up more and more debt.
"National's tax cuts added $15b to government debt over four years and poor quality spending on new motorways will add another $10b."
Also this week Labour announced an economic policy - a $5000 tax free threshold. The Government has criticised the move saying Labour has no way to pay the $1.3b cost of that. Today Grey Power said the move was positive and would help those on superannuation and benefits as well as low to middle income workers.
Mr Key yesterday signalled more belt tightening in the public sector, saying the budget's new spending allowance would be cut from $1.1b to about $800 million.
- NZPA