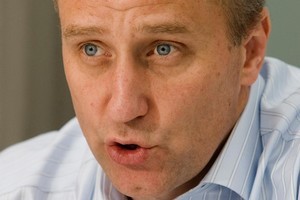 NZX chief executive Mark Weldon. Photo / Mark Mitchell
He's had the champagne on ice for three years but yesterday NZX chief executive Mark Weldon and his team finally had an excuse to pop the cork.
National's proposed partial float of state owned enterprises (SOEs) will be less of a shot in the arm for New Zealand's capital markets, more of a jolt from a defibrillator.
While the move will unlock billions for the Government coffers the sums involved are not big enough to provide the primary motive for this move.
The underlying reasoning has to be a belief that the listed market model will prove a winner for these assets and New Zealand's economy.
Critics will be quick to draw on New Zealand's poor track record of selling assets.
In the 1980s and 1990s sales were done quickly and assets sold in their entirety. With hindsight many were also sold too cheaply.
The policy unveiled yesterday is very different to those sales. There is a big difference between selling all of a company and selling a minority stake.
Even with as little as 50.1 per cent the state will retain control of the assets it floats. No smaller shareholder - be they foreign or local - will be able to impose its will with regard to the strategic direction of the companies.
What control the state does give up will largely be to do with the market rules that listed companies are required to abide by. Ironically, these rules are so strict that as publicly listed companies the SOEs may have to act in a more open and accountable way than they do now.
The value that SOE stakes will add to the stock market should give it a huge boost. As the pool of KiwiSaver funds grow, New Zealanders need more places for their savings to go.
Why not divert them to New Zealand companies that can expand with the capital and potentially create new wealth, perhaps by setting up operations across the Tasman or in Asia? If they do that then the dividend the Government forgoes now by selling down could be recouped later as the more dynamic companies make bigger profits.
That's the theory anyway.
If the opponents of the policy are smart they'll skip unbalanced comparisons with past asset sales.
They might instead focus on the vagaries of capital markets which have had plenty of problems in the past three years.
All companies can get too ambitious, expand too fast and lose money. But those on publicly listed markets are more exposed to the ruthless behaviour of investors. When things go bad, they go bad quickly.
Listed companies can find themselves broke and needing state bailouts as Air New Zealand did 10 years ago.
In choosing this path the Government has decided that those risks are outweighed by the benefits to the nation. The policy also acknowledges the downside risk of doing nothing and letting our market die a death by 1000 cuts.
The important thing here is for the Government to not just retain control of the SOEs but to exercise that control to ensure the companies retain a risk profile that is appropriate for a state asset.
Selling this policy to the public won't be easy. There are plenty of middle-ground voters that draw an ideological line in the sand over asset sales.
Even if they can ram home the difference between a partial sale and a full sell-off there will be those who fear it is the thin edge of the wedge. That's the challenge for Prime Minister John Key and Finance Minister Bill English.
By announcing the policy yesterday they opted to give themselves a long run-up to polling day.
But they also finally backed themselves on a policy that must be at the heart of their political beliefs. Their core supporters will be breathing a sigh of relief.