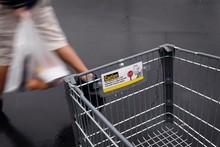 Food looks set to cost more at the till this year, although economists say higher commodity prices are good news for the economy.
Food prices fell 0.6 per cent in November and 0.8 per cent last month, according to Statistics New Zealand, with seasonal falls in vegetable prices the main contributor.
Statistics NZ prices manager Chris Pike said the price of green vegetables had been affected by unseasonal weather in September and October, and was well above usual levels in November and last month.
Food prices rose 4.2 per cent in the year to December, including a 2.2 per cent rise in October when GST increased.
ANZ senior economist Sharon Zollner said the key message was that global food prices were trending up.
The ANZ Commodity Price Index increased 2 per cent last month to a record high, with beef prices up 10 per cent, sheep meat up 1.9 per cent and venison up 1.3 per cent.
NZIER principal economist Shamubeel Eaqub said food prices would continue to rise this year.
"Soft commodity prices continue to be very strong and certainly most of forecasts from international agencies suggest that the pressure on food prices is to the upside," Eaqub said.
The United Nations said world food prices reached record levels last month, with the UN's Food and Agriculture Organisation listing Russia's worst drought in more than a century and rising Chinese demand as contributing factors.
Rising food prices would benefit rural producers, farmers and their suppliers with increased income, Eaqub said.
"But the rural economy tends to employ a fairly small proportion of New Zealand while everybody has to buy food at the supermarket.
"In the near-term the impact on discretionary spending is going to be negative, but if you're looking further out if commodity prices remain high then there is a positive to New Zealand from the higher rural incomes flowing through to the rest of the economy."
Recent bad weather in Australia could affect production of commodities such as wheat, sugar, cotton and rice, he said.
Higher wheat prices would typically raise prices for meat and dairy because grains were used as an input for cattle and dairy in the United States and Europe.
"We also consume a lot of wheat-based product in New Zealand, the cost of which will go up."
Wheat prices on the NYSE Liffe in Paris have nearly doubled in the past 12 months after crops were hit by a drought in Russia and floods in Canada and Australia.
ANZ economist Steve Edwards said higher food prices were a double-edged sword but there were more positives than negatives for New Zealand as a whole.
THE NUMBERS
* 4.2pc overall increase in food prices in the year to December
* 5.5pc rise in fruit and vegetables
* 4.9pc rise in grocery food
* 3.2pc rise in meat, poultry and fish
- Additional reporting Bloomberg
By Owen Hembry

Email

Owen