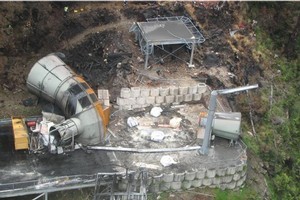 An attempt would be made to stabilise the Pike River mine but it was "very unlikely" the remains of the 29 men killed in the November tragedy would be recovered, receivers PricewaterhouseCoopers said tonight.
The families of the victims said earlier they understood the decision amounted to temporarily sealing the mine, which would halt recovery work and was a step that should be avoided.
"The plan is directed at establishing a stable state within the mine atmosphere," PricewaterhouseCoopers said in a statement.
"It does not allow for recovery of the deceased miners or guarantee the future of the mine."
The receivers said if the mine could be stabilised, considerable additional analysis would be needed to determine future plans - including whether it could be entered or further developed.
"The receivers agree with the police that, based on extensive work undertaken to date, it appears that a recovery of the deceased miners is very unlikely."
The men died after an explosion ripped through the mine on November 19, followed by several subsequent explosions.
Police announced on Thursday they were ending their recovery operation and handing the West Coast coal mine over to the receivers.
Police Commissioner Howard Broad said tonight the receivers' decision was in line with police conclusions.
"We note that the receivers have acknowledged that recovery of the deceased workers is very unlikely," he said.
"This is a realistic position given the compelling advice tendered independently by a number of experts over recent weeks."
The families, who were told of the receivers' decision before it was publicly announced, said through their counsel Nicholas Davidson QC that it was "a very significant step" which would halt recovery and re-entry work.
It would also preclude investigations by the Commission of Inquiry appointed by the Government to find out why the explosions occurred, they said.
Mr Davidson said the families would press for re-entry work to continue.
"We're concerned, of course, because one would expect the forensic (information) that could be gained by getting into the mine will be affected in some way, perhaps significantly, by not having that evidence available," he said.
Mine safety expert David Cliff said that while there had been a dramatic improvement in the mine's atmosphere, that did not mean it was safe to enter.
He said the atmosphere was inert and would not support combustion.
"It's full of methane, as far as we can detect," he said.
"But then to say everything is OK (and) we can go enter the mine, that's another quantum leap."
Labour Party leader Phil Goff said tonight the Government should take responsibility instead of "passing the buck" to police and the receivers.
"The families who lost loved ones in this disaster are rightly angry at the way they have been treated," he said.
"At the time of the disaster (prime minister) John Key rushed down to Greymouth making promises that he now says he can't keep."
- NZPA