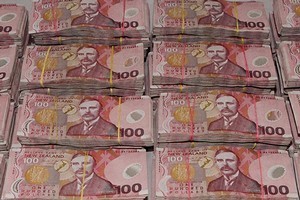 The New Zealand Superannuation Fund's reported a fall in investment earnings in November, after a significant decline in global fixed income markets sapped returns.
The so-called 'Cullen Fund', named for its architect Labour Finance Minister Michael Cullen, saw returns decline by 0.38 per cent loss in November, with assets now at $17.4 billion.
The monthly fall, which comes after three months of consecutive gains, still leaves annual returns in good shape, with earnings for the 2011 financial year at 12.1 per cent.
The losses in the month were exacerbated by a shuffle of its investment structure. The fund, which was established to partially fund the universal pensions of an ageing population, increased its holdings of international fixed income to $1.7 billion, or to 9.7 per cent of total fund size, from 7.5 per cent in October.
The other notable movement over the month was the collapse of its cash, collateral and foreign exchanges hedges, which declined owing to unrealised losses to negative $393.5 million, a turnaround of $522.1 million on October's $128.6 million positive balance.
Since its inception in 2003, the fund has under-performed against target by 1.47 percentage points, with an absolute return of 6.85 per cent. The fund's primary investment target is to exceed, before tax, the return on Treasury bills by an average of at least 2.5 per cent per annum over rolling 20-year periods.
Auckland International Airport remained the fund's biggest local holding in November at 1.6 per cent of total value, followed by Fletcher Building and Contact Energy at 0.7 per cent and 0.5 per cent respectively.
Australian toll road company Transurban Holdings was still the largest international stock in the fund at 1.6 per cent of total value, followed by ConnectEast Group, the operator of Melbourne's EastLink motorway, which rose to 1.2 per cent of total holdings from 1.1 per cent in October.
The fund also increased its holdings in Flughafen Zurich (Zurich airport), its third largest international equity investment, to $183 million or 1.1 per cent of total of fund value from 1 per cent previously.