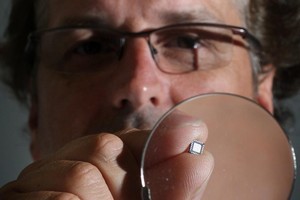 A New Zealand firm has its eyes firmly fixed on the world security market, hoping those looking to keep watch on others will use their technology.
Auckland-based Kiwi Semi-conductor (Kiwi Semi) makes electronics for security cameras and, despite being less than two years old, has teamed up with Silicon Valley's Pixim, a technology provider for more than a million cameras in 100 countries.
Kiwi Semi's chips control a number of internal functions in security cameras, working alongside more advanced chipsets made by developers such as Pixim.
"Pixim sell the image processor in the camera but alongside their chip there needs to be a lot of electronics to support functions like the lens and communications.
"We've taken all these accessory functions and packaged them together in the smallest [chip] we could," said Kiwi Semi's founder, Luc Lussier.
By collaborating with high-profile developers, Lussier said Kiwi Semi is increasing its exposure and becoming known to manufacturers.
"This way we can get into the market quickly. We team up with other chip companies which are already [working with our] type of products."
Lussier said the strategy was already bearing fruit and since signing with Pixim six months ago, Kiwi Semi was on the verge of a similar deal with another North American provider.
Lussier has big plans for this year.
"Our focus is to grow our revenue by a factor of eight, because last year's revenues were small. We've got a few products and we want to build up our number of what we call design-ins - camera [designs] that use our chip inside.
"With Pixim's help, we'll able to get two dozen design-ins this year."
As well as international support, Kiwi Semi has local backing from Stephen Tindall's K One W One and Movac Ltd, and gathered $1.75 million of capital in its latest funding round.
It also received a Technology Development Grant from TechNZ who said Kiwi Semi was an innovative firm with a promising future.
The burgeoning company certainly has room to expand.
Reports suggest the market for security-related camera chips will be worth US$1.25 billion ($1.65 billion) this year.
"It's a high-growth market - security is on everyone's agenda. Every government, every company wants more security and documenting of events and crime-scenes. It's becoming more and more critical and it's not going away any time soon," Lussier said.
Apart from teaming up with international players to get product exposure, Kiwi Semi has staff in Auckland, the United States and Singapore.
"We collaborate and it's very effective. The engineering work is being done here in Auckland and we also work with specialised contractors in the US. We decide what we need to design here and what we outsource," Lussier said.
Despite having staff in three countries, the company is still tiny.
"[In Auckland] we're a handful of people, about half a dozen depending on the day you come into the office. There's three people in California."
Lussier has run major semiconductor companies in Canada, but said it was New Zealand's positive economic outlook and support for innovation that led him to set up a company so far from his home country.
"We feel hope and that the future is bright."
KIWI SEMI
* Formed in February 2009 in Auckland by Canadian Luc Lussier.
* Last year signed as a brand partner with Pixim, a major Silicon Valley chipset developer.
* Financially backed by Stephen Tindall's K One W One and supported by TechNZ.
* Raised $1.75 million in capital in last funding round.