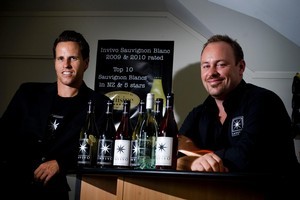 Several years of hard work are paying off for two school friends who went out on a limb to set up their own wine label just as the global downturn was kicking in.
Rob Cameron and Tim Lightbourne's company, Invivo Wines, has secured a major distribution agreement with Spanish wine giant Grupo Codorniu.
Lightbourne says the deal has the potential to add millions to the sales of the firm, which is already exporting to nine countries.
"It will provide us with a lot of growth," he said. "It takes us to the next level."
He said the agreement would give Invivo access to cafes, bars and retailers in France, the UK and Ireland.
There was also scope for the Kiwi label to expand into other markets in the future through Codorniu's global distribution network.
Despite the agreement the company will conduct its own marketing campaigns in Europe.
"We'll continue to work hard - probably even harder," said Cameron, Invivo's winemaker. "All [Codorniu] does is provide the pipelines - the really good points of sale that we can get the product out to."
Cameron and Lightbourne say they have put a lot on the line to chase their dream of making it big in the global wine trade. The pair, who met at Auckland Grammar, say they put their life savings into the firm.
Cameron, who has a 9-month-old son, mortgaged his house to support the business, which has one other investor.
"The first two years were pretty scary," said Cameron, who produces Invivo's white wines on contract facilities in Marlborough, and the reds at his parents' estate at Mangawhai, north of Auckland.
Invivo does not own any vines, but instead purchases grapes from growers in Marlborough and Central Otago.
The company produces sauvignon blanc, pinot gris, rose and pinot noir, which are sold in speciality liquor stores, cafes and bars in New Zealand. It also makes a low-calorie, low-alcohol sauvignon called Bella, which is targeted at health conscious wine drinkers.
Lightbourne said Invivo produced 60,000 bottles in its first year and would hit more than 250,000 units this year.
The firm was on track to make its first profit in 2011 andhad sold out of every vintage it had produced.
Lightbourne said the concept for Invivo was born in London in 2006 when he and Cameron were working in the UK.
At that time Cameron was a consultant wine maker, based in the British capital but working for wineries across Europe, where he even did a stint with Codorniu.
Lightbourne said working in London-based marketing roles for large European firms gave him the skills to take care of that side of Invivo's business.
"We didn't do the traditional thing where you buy the land and you put your winery on it," said Cameron. "We focused on the market and making a product that tastes and looks like what the market was demanding." Lightbourne said Invivo's label, designed by fashion brand Zambesi, had been crafted to catch the attention of retail shoppers.
"One of the things we realised in London was the sheer amount of labels [on retail shelves] that you have to cut through," said Cameron.
As to the future, he and Lightbourne are looking towards having a crack at the American wine market.
They say this may be possible through Codorniu's distribution network in that country.
THE PLAYERS
Invivo Wines
* Established in 2007 by school friends Rob Cameron and Tim Lightbourne.
* Producing sauvignon blanc, pinot gris, rose and pinot noir.
* Set to produce over 250,000 bottles this year
Group Codomiu
* Founded in 1551 and remains family owned.
* Owns the largest area of vineyards in Spain - more than 3000ha.
* One of the world's largest producers of sparkling wine.