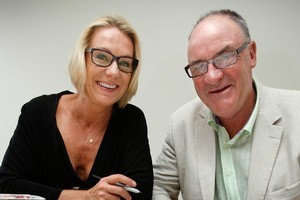 At this time of year, the New Zealand meats company Hellers is busy supplying a festive population with snarlers, shaved meats and hams.
According to founder director Todd Heller, through Christmas and January holidaying Kiwis enjoy late breakfasts or brunches, sausages and bacon being a big part of these meals.
Fans of what Heller says is New Zealand's largest producer of sausages, bacon and ham may notice a few changes this year.
The company which started in 1993 is going through a rebranding which accentuates the Hellers' roots as family butchers, in a move to differentiate itself from the rest.
The packaging has short stories from Heller, who is a fifth-generation butcher and started with his own butcher shop in Christchurch's New Brighton in 1985.
The Heller family is originally from Germany. Gorg Heller emigrated to New Zealand during the gold rush of the 1880s and started supplying the miners with smallgoods from his shop in Arrowtown.
The "NZ's Butcher" tag brings to mind the nostalgic days of friendly, local suppliers of fresh produce, says Hellers' design company, Dow Design. The revised branding started its rollout in early December, beginning with the most popular Christmas ranges of ham and shaved meat.
This new phase for the company will also see an added emphasis on its free-farmed products.
The large Christchurch employer, with 320 staff at its Kaiapoi plant and a further 130 in Auckland at Wiri, was able to bring the big guns out for the new look Hellers launch.
A week before the earthquake, Prime Minister John Key opened the company's extended Christchurch headquarters - a 6000sq m world-class plant in Kaiapoi. Heller confides that his managing director and 20 per cent shareholder, Nick Harris, knows Gerry Brownlee from St Bede's schooldays, so put in a request for the PM's presence through that friendship.
Why did the number one player in smallgoods and the number three in bacon and ham feel the need for a rebranding?
Heller explains: "Growth flourished through the 2000s but by 2009 our innovations had been imitated and the market was awash with 'like me' packaging. We'd lost the 'shelf stand-out' we once had and realised it was time to get innovative again."
Heller consulted his design company of 10 years, Dow Design, which carried out a brand audit, speaking to the supermarkets and consumers.
It advised going down the heritage route.
Dow Design first became involved with Heller in 2000 when, after a successful promotion from New Brighton butcher to supermarket supplier, he was looking for some direction with his brand. His rise to supermarket supplier had been swift.
"We were the first to do added-value products - we were the first to bring in Chinese honey for meat cuts like ribs and kebabs."
This entrepreneurial bent caught the notice of South Island supermarket chain SuperValue and led to his early success.
After amalgamating with Tasty Bacon to become Heller Tasty, Heller attended a marketing conference looking for inspiration.
"At the time, Hellers was a distant third to our leading competitors in the meat sector. I knew we didn't have a strong brand and was searching for guidance for my next move.
"When I listened to Annie Dow tell the audience of what her company had done for Anchor, I knew this was the person I needed to work with to bring the Hellers brand to where I wanted," says Heller.
Hellers was one of those typical New Zealand businesses which grew very quickly in the early days, says Dow, director of Dow Design. "The business had become unwieldy - a lot of New Zealand businesses continue to stay like that. It takes more visionary businesses to want a great brand and design," she says.
The advice from Dow has helped it grow eight times over since that time, from a $20 million annual turnover to $158 million, says Heller.
"Within two years we had won the 'Best Sausage in New Zealand' award and bought the 'Sensational Sausages' company. Within three, we were the number one player in the [sausage] market and available in every supermarket in the country."
But companies have to reinvent and step back continually, working on the brand, not sit back and say "it's done", says Dow. The pace and change of the current market are very quick. "His competitors copy him," says Dow. Hellers' main competitors are Premier Beehive and Kiwi Bacon.
Dow, who works across beverages, fashion and manufacturing brands, says if you don't have a distinct voice in the mass market, brands which are not reinventing themselves are falling by the wayside.
"The market is changing phenomenally - house brands are growing in supermarkets. If the brands are not strong with their voice, if they're not standing out, it's like death in the middle at the moment.
"It's about storytelling. It's up to us to continue the heritage story, through the advertising agency, signage on buildings and corporate identity, all giving a consistent voice," says Dow. "The trade likes to see brands reinventing too, it's important."
The design expert is encouraging Hellers to be sustainable and to expand its free-farmed products which guarantee consumers that the animals are not kept in stalls or crates, and the pigs live outside or in eco-barns.
While health experts are recommending people cut down on processed meats, Heller says: "Our business is not like Coca-Cola - we eat processed meats in moderation, people don't have sausages every day.
"Our business is about adding value to supermarkets, we can offer new products like Watties - things like new bacon products, new free-farmed products."
Of Heller's 450 staff, 50 work in research and development and sales. Hellers was the first to sell shaved meats, claims Heller. Also, the big party packs introduced by Hellers were the first in the world, he says.
The continued product innovation saw its reward at this year's New Zealand sausage awards. "At the recent NZ Sausage competition, we cleaned up - we won eight golds, seven silvers and one bronze."
Two products to get gold in their category were venison sausages and gluten-free precooked sausages. Hellers has recently introduced four new sausages, including three European-style types.
Heller travels to stay competitive."I get a lot of inspiration from food shows in Germany - the latest ideas for plant, keeping up with new trends."
He thinks Hellers could teach other countries a few things too. The United Kingdom would be an obvious export target - the Brits seem a natural market as portrayed in their ads set in London with funny man Leigh Hart.
Hellers has filmed a lot of its ads overseas. "It's to point out that our products will stack up with the original," says Heller.
The majority of inquiries are from Asia, and that's the most obvious market for Hellers, says the founder. The Malaysians like Hellers meatballs and breakfast sausages and the hotel chains are asking for his bacon.
Heller is unlikely to look for public money when he expands overseas - he's adamant he wants to stay private.
Succession shouldn't be a problem. Son Brydon is also a trained butcher and the company's marketing co-ordinator, while daughter Fraeona, a former restaurateur, is head chef and involved in quality assurance.
Meanwhile, he feels well supported by his other shareholders: investment company Rangatira, 51 per cent owned by the JR McKenzie Trust, has a half-share in Hellers, Heller owns 30 per cent and his business partner, Nick Harris, is the remaining shareholder.
The company has a board to maintain governance with Rangatira director David Pilkington, formerly of the Dairy Board and Fonterra, as chairman and the chief executive of Rangatira, Ian Frame, and experienced professional director Graham Heenan as directors.
HELLERS
* NZ producer of sausages, bacon and ham.
* Started in 1993.
* The Heller family's NZ butchery background dates back to the 1880s.
* Employs 320 staff in Christchurch and 130 in Auckland.