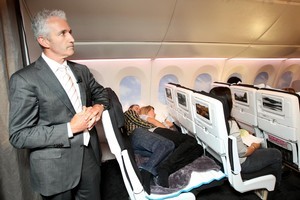 Air New Zealand says the innovations on its new 777-300 aircraft are only the start of things to come.
The plane which made its inaugural flight from Boeing's Seattle headquarters to Auckland this week is the first of a fleet of five.
It contains a range of new products which the airline claims will revolutionise commercial air travel, including the much awaited "cuddle class" or Skycouch.
To achieve the fitout within the desired timeframe decisions had to be made about which concepts to pursue, and there were more ideas still in the pipeline, manager aircraft programmes Kerry Reeves said. "What you see here is a start of the innovation process."
The Herald on Sunday understands these include twin bunks that would fit into the same space as the Skycouch.
Airline chief executive Rob Fyfe flew back on the new 777 in cuddle class and said the interior was "a world-class benchmark that other airlines will look at in awe".
In the fiercely competitive airline industry Air New Zealand is aiming to define its future by offering a better tourist experience to passengers in all parts of the cabin.
Outgoing group general manager international airline Ed Sims, who headed the project, said it competed with hotels, resorts and luxury yachts as much as with other airlines.
It was about yield, not volume, and the economy class product had been largely ignored by the airline industry over the past decade.
"Skycouch gets all the headlines, but the structural genius is Premium Economy," he said.
The step up from standard economy was so successful that it had increased the number of Premium Economy seats from 36 on its 777-200 aircraft to 50 on the new plane, and introduced the Spaceseat version.
Air New Zealand's Airpoints Dollars loyalty scheme helped make it pay. It was a cost to other airlines when passengers upgraded using frequent flyer points, but "for us every time someone uses a point to trade up they're paying cash".
At the other end of the spectrum Air New Zealand was popular with celebrity passengers on the Los Angeles to Heathrow route because of its secluded premium cabin and laid-back crew.
"We have a reputation as the best kept secret. We want that high value traffic enjoying all the benefits [of the new product]."
Around 30 airlines are in discussion with Air New Zealand about purchasing the new seating, which will be exclusively manufactured for the national carrier for 18 months.
Sims said one of the important pieces of the intellectual property was how best to sell the product, and he predicted airlines would purchase a complete package including distribution tools.
Maria Slade travelled to Seattle courtesy of Air New Zealand.