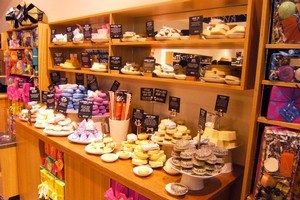 Handmade bath and body company Lush will release chewable toothpaste tablets next year to help reduce the amount of tubes thrown into landfills every year around the world.
The tablets will come in a variety of flavours and will foam in a similar manner to traditional toothpaste.
The product is expected to be available in the company's 680 stores worldwide by March.
All Lush products are vegetarian and some are vegan-friendly - meaning they contain no animal or dairy products - and are free of preservatives.
The company, founded in Britain in 1995 with the help of Kiwi Andrew Gerrie, focuses on minimal packaging to reduce waste and products that do not harm the environment when released into waterways through waste water.
The stores are modelled on fresh produce markets; the face masks are mounted on ice like fish, the soaps are moulded into wheels that resemble cheese, the bath bombs are stocked in rows like apples and massage bars look like confectionery.
Lush co-founder and product inventor Rowena Bird visited Lush's Newmarket store recently to discuss the company's sustainable products ahead of the Christmas shopping rush.
The company's Christmas range was released last month, with many of the gift ideas coming in re-usable tins to cut down on cardboard packaging.
Bird, who is based in the UK, said everything was designed to be used as a fresh product and not stored in cupboards for long periods. Because the products do not contain preservatives they have a much shorter shelf life than mass-produced items.
Bird said everyday items such as toothpaste created a huge amount of waste that ended up in landfills.
Lush also sells shampoo bars that remove the need for plastic bottles.
Products that do come in plastic containers can be recycled or returned to Lush for re-use.