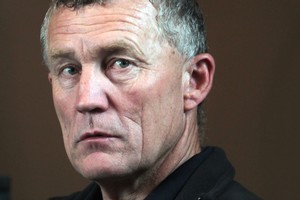 Many suppliers may never be paid back for giving to the recovery operation at Pike River Coal mine, Grey District Mayor Tony Kokshoorn says.
Receivers called in for Pike River Coal have classified those who gave equipment and services to the effort to recover 29 bodies from the mine as unsecured creditors, Mr Kokshoorn said.
He called for an assurance they will be refunded.
"A lot of them on good faith went up the mountain. They assumed if the police were operating a search and rescue operation they would be paid back.
"There needs to be some collective responsibility for this from Pike River and the police. They need to commit to the promises they have given from the start."
Unsecured creditors are third in line to receive payment from Pike River receivers behind staff and the IRD and secured creditors NZ Oil and Gas and the BNZ.
Among that group is a man who donated $50,000 in piping and equipment for the "GAG unit" charged with putting out the fire at the mine, Mr Kokshoorn said.
Another man who organised a fleet of buses to transport families of the dead men up to the mine is also classified as an unsecured creditor, he said.
Mr Kokshoorn said he was worried they would be left out of pocket when the mine company's funds are divided.
"They rank the lowest with the unsecured creditors. They need some clarity and they need some leadership. The leadership has gone."
Police announced on December 10 that control of the Pike River mine would be transferred back to Pike River Coal.
NZ Oil and Gas announced Pike River Coal was going into receivership on December 13.
An insolvency expert told the Herald that unsecured contractors and suppliers were now unlikely to be paid out by receivers.
"The bad news is [for] the unsecured creditors because the prospects of them getting any money will now be remote," said the expert, who did not want to be named.
Energy Minister Gerry Brownlee said he accepted Mr Kokshoorn's worries for the fate of those that supplied the recovery operation.
"I understand his concern and I accept there is an issue there."
But Mr Brownlee said he would not comment on whether funds would be paid out until he had met with receivers.
"The company is in the hands of a receiver.
"I need to find out from receivers exactly what the position is."
PricewaterhouseCoopers have been appointed as the receivers for Pike River Coal.
John Fisk, a partner at the PricewaterhouseCoopers, said the main priorities of the receivership were to look at options for the recovery effort and making the mine safe, co-operating with inquiries into the mine disaster, looking after employees' entitlements and preserving the value of the asset "while recognising that there is considerable uncertainty about the future of the mine".
- Additional reporting by Grant Bradley