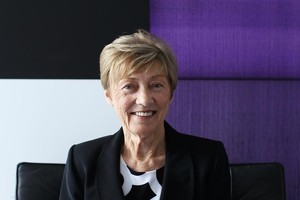 Professional director Alison Paterson says it is happening, but it will take yet more time before the number of females at the top of the country's corporations increases.
Paterson, a veteran of 35 years serving on the boards of leading New Zealand organisations, has been named Chairperson of the Year in the Deloitte/Management magazine Top 200 Awards.
She is the first female to take the prize. Given that she made the New Zealand Herald in 1979 for another pioneering moment - as the first woman appointed to the board of a publicly listed New Zealand company - it is perhaps surprising to hear her say that it didn't occur to her to consider the gong from a gender perspective.
"To win that award meant it was recognised that in that role I add value," she says.
Yes, she believes there should be more women at the highest corporate levels. She is on record as saying that women add a different perspective.
They are more intuitive, she says.
"Having says that, you don't do it for the sake of showing there is no glass ceiling."
A person who wants to be a company director needs to demonstrate that they have the career history, they know the industry in question, they can add value, and that they can articulate how they will add that value, says Paterson.
"That's the first test - can you be trusted with the stewardship of someone else's assets? Accountability is what it's all about, really."
Getting more women on the boards of New Zealand companies has always grabbed the headlines - currently fewer than 9 per cent of directors on the top 100 companies are female - but so often "directorships" are talked about in the abstract, she says.
A good starting point is to ask women why they are lusting to become company directors.
"It's because it sounds exciting and powerful and sexy, but the reality is directorships come and go, there's no surety that you're going to get reappointed," says Paterson.
"I would suggest that there are a lot of professional women who would be making hugely more than they could be as a company director."
A person who is aiming to be a director is someone who feels they have reached the stage where they can add to the governance discussion, to strategic thinking and direction.
"How many women who talk about directorships are that specific about their ambition?"
After a lifetime building a successful career the 75-year-old Paterson is keen to give back, and has just agreed to become a mentor for the Global Women network.
Global Women, backed by well-known names such as former prime minister Jenny Shipley, former Telecom chief executive Theresa Gattung and constitutional lawyer Mai Chen, is the kind of initiative needed to encourage and promote women through the ranks, she believes.
She already spends a lot of time having coffee with people wanting to discuss their career direction, she says, so has decides to formalise the arrangement.
But she describes the Australian stock exchange's new requirement that listed companies set targets and report back on their efforts to get more women at the top of their organisations as a "difficult call". So far the NZX has decided not to follow suit.
"It's a matter of the availability of women of the calibre you need, and mandating a certain number is fine as long as the women are there."
Paterson says there is no getting around the fact that many women take career breaks to bring up their children and that this inevitably takes a slice out of their career progression.
"You don't get a free lunch because you made a particular choice. It's asking rather much of the shareholders who are putting up their assets to be adopting any kind of a charitable view of what future should be offered [to] worthy young mums."
However companies are casting around for good female candidates, and Paterson says it's a conversation she has often.
The recruiting is not just through the golf club or the old boys' associations any more.
For example Abano Healthcare, which she chairs, will be on the lookout for a new director sometime next year.
"We will use a recruitment agency and we will have a search done. I think most companies would be doing that."
She says becoming the first-ever female elected to the board of a publicly listed company "sounded grander than it actually was".
The company was department store operator McKenzies which decided it needed a female influence, but the business was sold within a few months.
"All I could claim ... was that I was the first, not that I made any particular contribution," says the then Alison Dinsdale.
She is prouder of the fact that she was the first woman appointed to a producer board - the Apple and Pear Marketing Board in 1976, where she served for 10 years.
Paterson currently sits on the boards of nine organisations. She is chairman of five and chairs the audit committees of three.
Past roles have included chairing Waitemata Health and Landcorp, and she was on the board of the Reserve Bank for 15 years. She was made a Companion of the New Zealand Order of Merit this year for her service to business.
Retirement is not on her horizon.
"I count my marbles every day," she jokes. "If you're blessed you've got high energy levels."
THE DIRECTOR
Name: Alison Paterson
Age: 75
Awards: QBE Chairperson of the Year, 2010; Companion of the New Zealand Order of Merit
Career: Current board roles include Abano Healthcare, primary growth partnership Farm IQ, the University of Auckland's National Centre for Growth and Development, Stevenson Agriculture.
Past roles include Waitemata Health, Landcorp, the Reserve Bank, the Apple and Pear Marketing Board.