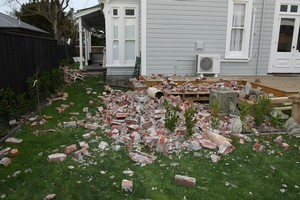 More than 80 per cent of Christchurch households have filed insurance claims for the Canterbury quake, which the Earthquake Commission says was one of the world's most devastating natural disasters in terms of repair costs and insurance claims.
Commission bosses told the commerce select committee yesterday that EQC's response could have been better, particularly in communicating with residents making claims.
The deadline for filing claims with the commission for the 7.1 earthquake in September expired last week.
"It's got to be up there in the top five worldwide [in terms of] claims and costs," said Michael Wintringham, chair of the commission's board.
"We had just over 160,000 claims, and given that some of them were multiple - contents and land and building - that means we have over 190,000 claims."
That was almost a third of the claims that followed Hurricane Katrina in the US in 2005, which he said had a repair bill of US$100 billion.
"There are pockets of deeply distressed people whose lives have been put on hold for the best part of two years ... It's something that has impacted the people of that area very profoundly," Mr Wintringham said.
The commission had assessed 56,000 claims and was churning through about 1200 more each day.
Of those assessments, 150 did not have private insurance.
The Government is yet to decide if or to what level it will offer support for those who had filed claims but were not insured.
The commission is expected to pay out more than $2 billion in claims in total.
Committee chairwoman Lianne Dalziel, MP for Christchurch East, praised the EQC's overall efforts but questioned the failure to provide a proper channel for public feedback that could have helped the response effort.
"We didn't quite get there on that, did we?" she asked.
"No," Mr Wintringham said.
She said she informed the commission three days after the earthquake of the worst affected areas, but was told she did not know what she was talking about.
Mr Wintringham said EQC could have set up communication faster, but it would be impossible to satisfy public demand because feedback on EQC claims had little value until the geotechnical work and assessments had been done.
"There is an inevitable delay while that work is being done. I don't think there's an easy solution to that."
He admitted that EQC had failed to reach ethnic communities that did not speak much English.
Mr Wintringham told the committee the long-term financial position was also being threatened by the payouts from the earthquake claims and reduced income on its funds.
"We are almost in an unsustainable position."
The commission provided land insurance, which was at odds with other countries' natural disaster insurers. EQC did not collect premiums for insuring land, but its payouts for land claims were rising.
AFTERSHOCK
* 80 per cent of households have filed claims
* 190,000 total claims
* 56,000 claims assessed
* 150 of those did not have private insurance
* $2b of claims expected