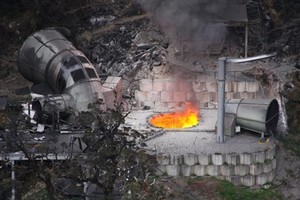 Pike River Coal will have to reduce its workforce when it is ready to re-establish operations after a series of blasts killed 29 men last month.
Chief executive Peter Whittall said the 180 staff plus contractors would definitely be reduced to a smaller workforce, at least temporarily, as the mine worked towards getting going again.
"There will have to be a review of workforce numbers...there will be a transition period between now and then. The major barriers to recommencement is going through what went wrong and making sure that's corrected," Mr Whittall told Radio New Zealand today.
He dismissed reports of possible receivership as "extremely premature" and said estimates that the company would need $200 million to re-establish itself had not come from Pike River Coal.
"It is all yet to be determined. The equipment underground might be in quite good condition or it might need to be replaced. We are currently going through what we would need to do and there's obviously a number of stages."
The explosions, dangerous gas levels and a coal fire have kept rescue and recovery teams from entering the mine since the first blast on November 19.
There has been some progress made at the mine site with flames now only intermittently visible from the ventilation shaft and temperatures around the concrete pad at the top of the shaft dropping.
Mr Whittall said a lid would need to be placed on the vent shaft (to starve the fire of oxygen) once police had signed off on the risk assessments but that probably wouldn't happen today.
He wasn't sure about who would pay the costs of running the GAG (Gorniczy Agregat Gasniczy) machine - a converted jet engine used to smother the fire - and said that was a "meeting yet to be had".
- NZPA