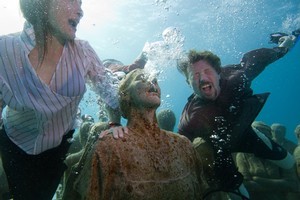 Four hundred life-sized human statues have been installed under the sea off the coast of Mexico to highlight the need for urgent action as the UN Cancun climate talks go into their second week.
Representatives from 193-nations are meeting at to try to reach international agreement on what follows the end of the Kyoto Protocol in 2012.
The conference hopes to restore credibility to the talks after last year's summit in Copenhagen failed to agree on any binding measures to rein in emissions of global-warming gases.
Climate change activists at the conference from Mexico, China, Costa Rica, the Dominican Republic, the US, Vietnam and the Philippines have been swimming around sculptures standing nine metres below the sea level.
Greenpeace said the underwater tableau, created with by TckTckTck partners and 350.org, sought to show that without urgent action many would face a similar future to the life-sized sculptures.
Brady Bradshaw, from the Greenpeace US student network, said while the statues were designed to live beneath the sea, humans are not.
"Yet, without action to reduce greenhouse gas emissions, 100 million people or more could be in danger of losing their homes, their lives, or both to rising seas. Ministers need to make the right choices this week, and set us on a path that will save the climate, and ourselves."
Vanessa Dalmau of 350.org, a global campaign which has organised over a dozen climate-themed public art events, said art can convey the "urgency of our situation in a different way than the science".
"I dove underwater to try and help stop the rising seas that threaten my home in the Dominican Republic," she said.
The Cancun talks seek to produce decisions on establishing a "green fund" to help poorer nations rein in greenhouse gases and to adapt their economies and infrastructure to a changing climate; an agreement making it easier for developing nations to obtain patented green technology from advanced nations; and pinning down more elements of a system for compensating developing countries for protecting their forests.
At last year's talks in Copenhagen, a non-binding political document outlined important compromises among key players, including the United States and China, but its adoption was blocked by a handful of dissident nations.
In subsequent months, however, 140 countries declared their endorsement of the Copenhagen Accord, and 85 of them made specific pledges for reducing carbon emissions, or at least limiting their growth, by 2020.
- NZHERALD STAFF