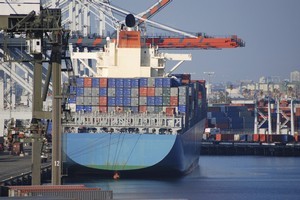 Trans-Pacific trade negotiations continue in Auckland today, aimed at hammering out broad economic alliances between nine countries representing more than half a billion people.
Negotiations are aimed at expanding the Trans-Pacific Strategic Economic Partnership Agreement between New Zealand, Singapore, Chile and Brunei to include new members the United States, Australia, Peru, Vietnam and Malaysia.
Stephen Jacobi, executive director of the NZUS Council, said the scope of the talks was much broader than a conventional free trade agreement.
"In reality the way business is being done today is not so much about just trade, export and import, it's being done through investment, strategic alliances and particularly through supply chains," Jacobi said.
"I suppose those who have concerns about this agreement are right when they say that this has the potential to go quite deep into domestic policy settings ... it has to do so because these days we've got a much more dynamic business environment in which we're operating."
Parliament would have to enact any legislation bringing into effect the provisions of an agreement.
"I don't think that there's much risk that any New Zealand government would sign up to an agreement that was damaging for New Zealand," he said.
"The bigger picture here is it's much bigger than just the United States, it's nine parties, it's a wide range of issues and opportunities that can be explored, we're trying to build a pathway for an Asia-Pacific-wide free trade agreement."
Key issues included relationships to other existing agreements, market access for agricultural products, investment and the promotion and protection of intellectual property, he said.
Chief New Zealand negotiator Mark Sinclair yesterday would not discuss specifics on national positions or differences at the negotiating table.
The negotiations, which started in March, were working towards a regional agreement.
"We're also seeing it as something that gets into more than just traditional trade liberalisation," he said.
"Our goal is to look beyond that and work towards integration [of] economies in the region."
The main negotiation programme got underway with working groups meeting on issues of goods, intellectual property, financial services, customs, business mobility, labour and legal and institutional issues.
New Zealand Council of Trade Unions policy director and economist Bill Rosenberg said the big trade interest for New Zealand was agriculture - getting more dairy and other products into the United States.
"But powerful US interests will oppose that every step of the way. If any access is won it is likely to be delayed for a decade or more."
Fonterra trade policy consultant Ken Geard said the dairy co-op had supported other free trade agreements and said agreements should be of high quality in terms of trade.
"Which means they are comprehensive, that they cover all sectors of the economies in terms of trade and that particularly applies to dairy products which some countries wish to leave out."
Auckland University academic Jane Kelsey told protesters the agreement would give foreign investors the right to decide the Government's actions for the next 100 years.
"They will threaten our rights to control foreign investment with privatisations of strategic assets."
Five more rounds of negotiations are scheduled for next year.
HIGH STAKES
Trans-Pacific Strategic Partnership Agreement:
* Talks between New Zealand, Singapore, Chile, Brunei, Australia, United States, Peru, Vietnam and Malaysia.
* Combined population of about 502 million people.
* Five more rounds of negotiations are scheduled for 2011.
- additional reporting NZPA