These are tough times for doing business, but this week we celebrate those who are leading the way through the downturn. Every day we will feature the finalists for New Zealand Herald Business Leader of the Year. The winner will appear in the Weekend Herald on Saturday.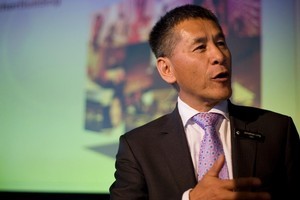 If business comes down to the prosaic matter of cash, then Fletcher Building chief executive Jonathan Ling is a kingpin, turning last year's $46 million bottom-line loss into a $272 million net after-tax profit for the year to June and forecast to make around $357 million this financial year.
Fletcher is New Zealand's biggest listed company, so retail investors can climb aboard the bandwagon and benefit from Ling's skill.
With shares trading at around $8 for much of the year and $4.8 billion market capitalisation, NZX businesses don't come any bigger or better than this home-grown success, which celebrated its centenary last year.
Ling engenders confidence and not only in the boardroom or on the electronic trading screens.
Banks love Fletcher Building and have been willing to loan Ling an extra $1 billion as an unused on-hand facility.
But the cautious Victorian is not rushing in to make another big acquisition like Formica or Laminex - though he does not rule out a big spend when the time is right.
Ling's timing has not always been perfect, but he has ridden out the financial disaster, gradually achieving the board's aim of diversifying Fletcher geographically and by earnings.
Fletcher's weak point has been its exposure to New Zealand's fluctuating economic fortunes but since taking over from now-chairman Ralph Waters, Ling has drawn praise from investors and institutions.
Fletcher's annual meeting is more akin to a fan club rally than the somewhat hostile annual meetings of our less successful businesses.
And even if the Australian Ling continues to mangle the pronunciation of Tauranga, he provides strong direction distilling information quickly and clearly.
Ling, who also leads some 16,000 Fletcher employees around the world, noted at last month's annual meeting that the company's performance this year was strong against the backdrop of the financial crisis.
Last words to him: "While the short term outlook isn't entirely clear and predicting results from month to month is more of an art form than a science, we are confident that the medium and long term prospects for the business are excellent."