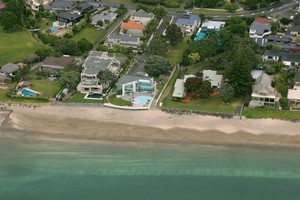 In recent weeks something has started brewing in the depths of the New Zealand economy, and it smells disappointingly familiar.
The housing market has started to simmer again, albeit only in some places and for some types of houses. The signs are unmistakeable and many of the same causes and problems are repeating themselves.
It shows New Zealanders and our institutions just can't kick the habits of a lifetime. Not without more surgery and therapy.
Firstly, Reserve Bank figures show mortgage approvals have picked up again in the last four weeks after months in the doldrums. The value of approvals hit $742.9 million in the week to November 26, their highest level since May 21.
Then Realestate.co.nz reported that there was a rush of new listings last month. New listings rose by a seasonally adjusted 7 per cent to their highest level for any one month since June 2008 and the highest November since 2007.
First National reported that in some areas it wondered if "someone turned the light switch on" as the number of listings and sales surged.
Finally, Auckland's largest real estate agency, Barfoot and Thompson, reported on Friday that sales volumes rose 19 per cent in November from October and that average prices rose 5.7 per cent to $553,743.
However, it also noted a much larger proportion of the sales were going through in the "luxury" price brackets in suburbs around the CBD and on the eastern coasts.
There is a mixture of demand and supply in this warming of activity. Buyers seem to have basked in the unseasonably warm sun and decided after a fresh batch of open homes that now is the time to buy. Many people have put their lives on hold since the housing market came off the boil in early 2008.
Also, the tax cuts that took effect on October 1 are starting to hit pay packets and bank balances. The numbers are most substantial for those on higher incomes, so it shouldn't be too surprising that it is those houses in the priciest brackets that are selling first and where the most heat is being generated.
Home-loan affordability has improved substantially in the last three years and is now back at mid-2004 levels as incomes have kept rising and interest rates have fallen substantially, the Roost Home Loan Affordability report shows.
The interest rate outlook for borrowers has improved, too. This week both ANZ and NZIER said they expected the Reserve Bank to hold the Official Cash Rate until the June quarter. BNZ's economists also said a later hike was also possible. This would provide encouragement for those moving to a floating mortgage that their rates will stay lower for longer.
But there's also a supply element to this. Westpac is now advertising for home loans with loan-to-value ratios of more than 90 per cent. Many of the banks are also offering incentives to mortgage brokers to sign up new business. Slight reductions in fixed-rate mortgages in the last two weeks are also aimed at increasing demand for home loans.
The banks also seem a little freer with their lending policies and certainly have more funding available. BNZ was successful with a covered bond issue offshore and Westpac has announced plans for similar bond issues overseas. Even Kiwibank detailed plans this week to borrow more offshore to put back into the New Zealand mortgage market.
So, what has changed?
The Reserve Bank and the Government have pointed to a shift in the economy away from borrowing and spending on property to saving and investing in production. But while some signs of deleveraging have come through it's patchy, and there is certainly a lack of big new investment in export businesses.
There are few signs yet that households have changed their ways completely.
All of the new bank lending in the last two years has been to households and farmers with property as the security. Lending to businesses has actually slumped.
And now we see the foreign-borrowing tap being turned back on again so people can pump more cash into housing values.
Have we really learned anything? Not from the smell emanating from the richer suburbs in Auckland.