Telco rivals say they have the technology to deliver the Government's goals.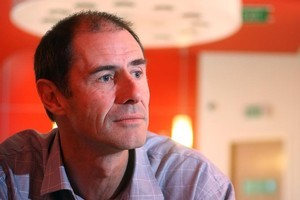 If 3D television delivered to the backblocks via a cellular network doesn't sound improbable enough, how about the fact that it could be an alliance of rival telcos Vodafone and Telecom that makes it possible?
That's the picture that was drawn last week by Vodafone during a demonstration of 4G cellular services using equipment from Nokia Siemens.
The services were mostly spectacular - except for the part where the comparative download speeds of 4G, 3G and 2G networks were shown.
Although an apparently genuine file was downloaded over the 4G network set up for the occasion in Nokia Siemens' Auckland office, only simulations of how long the same download would take over 3G and 2G networks were provided. Needless to say, 4G was faster - but we knew that, and the bar graphs showing imaginary 3G and 2G network performance just looked faintly ridiculous.
It also seems faintly ridiculous that the country would cheer at the surprise joint Vodafone-Telecom bid to provide internet access from the countryside under the Government's Rural Broadband Initiative (RBI). To all appearances, the two telcos are bitter rivals, so co-operating over an RBI bid seems improbable in the extreme.
But appearances may be deceptive. Former Telecommunications Users Association (Tuanz) chief executive Ernie Newman made no bones about referring to the cosy duopoly Vodafone and Telecom have maintained for years in the mobile market.
Perhaps they're more practised at co-operation than they're given credit for. After all, they have put up a united front in resisting a reduction in mobile termination rates, making it hard for newcomer 2degrees to get established, and ensuring that New Zealanders pay over the odds for mobile services.
With that history, it would be a generous user community that embraced the pair's pitch to the Government to win the RBI contract, landing them about $285 million of taxpayers' money. Nevertheless, they do look to have a persuasive technology case.
Their plan is not to deploy 4G services straight off, since the necessary radio spectrum won't be available until the plug has been pulled on analogue television transmission. The so-called digital switchover will take place in November 2013 and, between now and then, the Ministry of Economic Development (MED) will work out how to divvy up the newly vacated radio waves.
Just as important, much larger Asian countries such as Japan, Korea and India will decide how to use their digital dividends as the windfall of scarce spectrum is known. Their decisions matter since, to keep equipment prices down, it makes sense to have as many users as possible providing the same sorts of services on the same frequencies. So where they go, we're likely to follow.
When 4G is available here (it already is in Sweden and Germany), it promises plenty. Improbable as it sounds, the Nokia Siemens demonstration showed four 3D movie feeds coming via a 4G cellular connection to a large TV screen, each consuming about 20 megabits a second (Mbit/s) of the 100Mbit/s capacity of the mini-cellsite.
In the real world, of course, that 100Mbit/s would be divided among a number of users. Vodafone estimates that at peak times four to five subscribers would be contending for the available bandwidth.
But 4G is still a few years away; and nor are Vodafone and Telecom assured of winning the RBI contract. The Government received five responses to its tender, which called for provision of 5Mbit/s services to 80 per cent of rural households, with the remainder receiving at least 1Mbit/s.
Steve Rieger, who is in charge of Vodafone's RBI effort, acknowledged the joint bid was a major departure. It would draw on the optical fibre-laying capabilities of Telecom's Chorus unit to provide the network backbone, and require Vodafone to erect 154 new cell sites in addition to its existing 380 to connect to subscribers.
A successful RBI bid would see Vodafone begin bumping up its 3G network speed from the present 7.1Mbit/s to 28.8Mbit/s, so that rural cell sites shared by five subscribers would meet the Government's 5Mbit/s service requirement. And in four or five years, an upgrade to 4G would deliver 100Mbit/s.
Vodafone and Telecom aren't confining the new sharing spirit to themselves. Rieger says the cell towers, for which Resource Management Act "forgiveness" will be sought so they can be built 5m to 10m higher than the existing standard permits, will be available to all-comers.
"One of the messages that we're keen to make sure the MED understands is that the infrastructure we're proposing will be very open," he says, so companies such as 2degrees, Kordia and others will be able to use the towers.
Whether that message gets through should be known shortly. The Government is expected to begin negotiating the RBI contract any day.
Country connection
* The Vodafone/Telecom bid is one of five proposals seeking funding under the Rural Broadband Initiative.
* The goal is to provide 80 per cent of rural households with broadband speeds of at least 5Mbps, and the rest with at least 1Mbps.
* The Government now has to evaluate the contenders and start negotiating the contract, worth about $285 million.
Anthony Doesburg is an Auckland technology journalist