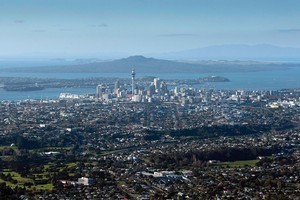 House price expectations are the highest in Auckland, according to the latest ASB NZ Housing Confidence Survey, which finds that housing confidence has fallen slightly in the past three months.
"Expectations for rises in house prices have fallen across all regions except Auckland," ASB chief economist Nick Tuffley said.
"A net 8 per cent of people we surveyed across New Zealand expected prices to increase, significantly down from a net 19 per cent last quarter. Auckland now has the highest price expectation across the regions," he said.
A breakdown showed a net 19 per cent of people expect house prices will rise in Auckland compared with a net 4 per cent for the rest of the North Island. The figure is just 2 per cent for the South Island.
Overall, 33 per cent expect higher prices, down from 38 per cent last quarter, with 25 per cent expecting lower prices, up from 19 per cent last quarter.
The 37 per cent expecting no change is little different from 38 per cent in the previous period.
There has been little change in the survey's measure of whether or not it is a good time to buy a house. A net 28 per cent of respondents say that now is a good time to buy, compared with 29 per cent in the previous quarter.
Mr Tuffley said fewer people expect interest rates to rise but this is not fuelling housing confidence. A net 61 per cent of respondents now expect interest rates to rise, down from a net 71 per cent in the July quarter.
"This subdued interest increase expectation would usually fuel housing confidence, but is balanced out by the fall in price expectations," he said.
The survey results are in line with recent data showing signs of a continued slowdown in housing activity.
Mr Tuffley says the median number of days taken to sell a house has continued to edge up and is now well above the long-term average.
"We expect the outlook for the housing market will remain subdued given waning housing turnover.
"Beyond 2010, we forecast weak house price growth, tempered somewhat by population growth and net migration."
- NZPA